USS George Washington departs Yokosuka; carrier's future uncertain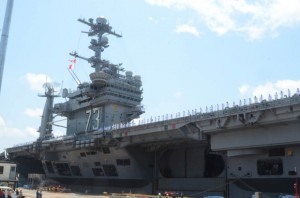 Sailors man the rails as the aircraft carrier USS George Washington prepares to depart Yokosuka Naval Base on May 24, 2014.

Erik Slavin/Stars and Stripes
YOKOSUKA NAVAL BASE, Japan — The aircraft carrier USS George Washington embarked Saturday on what is likely one of its last patrols of the western Pacific Ocean as a Japan-based carrier.
About 5,500 sailors, Marines and other personnel left Yokosuka for a cruise that will include multiple port visits throughout Asia, as well as exercises at sea with Japan's Maritime Self-Defense Force.
A few dozen made it out to Berth 12 to wave goodbye to their loved ones aboard the ship.
"It's always going to be sad, but at the same time, if you keep doing it, you learn how to deal with a missing spouse," said Kirsti Campbell, whose husband works aboard the carrier. "I have three kids, which keeps me busy. I have a lot of friends too, and they're a great support group."
Long-term patrols for a carrier generally run about six months, though they have been lasting considerably longer recently. The USS Truman returned to Virginia in April after nearly nine months away.
Some carriers, like George Washington, often return to their homeport for a mid-patrol break.
In the summer of 2015, USS Ronald Reagan is scheduled to replace George Washington as the Navy's Japan-deployed carrier.
USS George Washington's future remains uncertain after that.
The ship is scheduled for a mid-life nuclear refueling and maintenance overhaul in 2016, which would take up to four years to finish. Some lawmakers and Pentagon officials have suggested retiring the ship instead, in order to meet mandatory budget caps on defense spending.
Estimates on keeping George Washington and its air wing in the fleet have run as high as $7 billion over five years.
On May 21, Chief of Naval Operations Adm. Jonathan Greenert defended retaining George Washington, saying that reducing the fleet to 10 carriers would overtax ships and burn out sailors.
Back to Top