In its final years, the aircraft was highly productive in a fight over Syria, jamming militants and protecting U.S. pilots from enemy air defense systems.
On May 11, Marine Electronic Attack Squadron, or VMAQ-3, based out of Cherry Point, North Carolina, held its deactivation ceremony, leaving VMAQ-2 as the last EA-6B Prowler squadron in the Corps. VMAQ-3 will complete its deactivation May 31, according to Capt. Sarah Burns, a Marine spokeswoman.
The last remaining EA-6B squadron in the Corps will begin its deactivation in October 2018.
"VMAQ-2′s deactivation in FY19 will mark the end of the EA-6B's service in the Marine Corps, as well as its continuous employment as a joint tactical Airborne Electronic Attack (AEA) asset," Burns told Marine Corps Times. 
The EA-6Bs from VMAQ-3 are headed for Aerospace Maintenance and Regeneration Group at Davis-Monthan Air Force Base in Tucson, Arizona, commonly referred to as the Boneyard, where they will be stored and preserved.
Despite the sun setting on the Corps' legacy electronic attack aircraft, the Prowlers put up a hell of a fight in its final years deployed overseas in support of Operation Inherent Resolve against ISIS militants.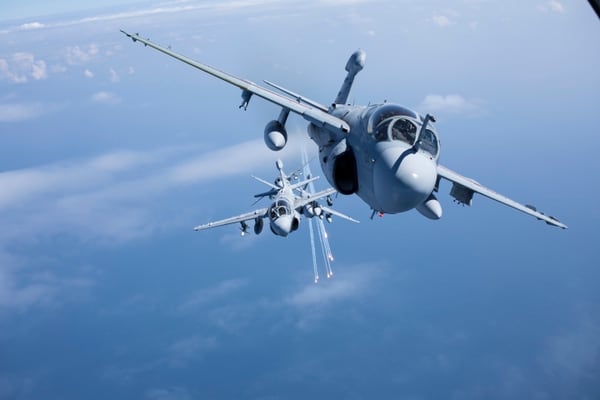 The aircraft has been important asset to coalition forces for its ability to jam ISIS communications, roadside bombs and suppress enemy air defenses in Syria.
The EA-6B was one of the first aircraft on scene in the lead-up to U.S. strikes against ISIS fighters in Iraq and Syria. 
In February 2014, VMAQ-3, "the Moondogs," deployed to Al Udeid Air Base, Qatar, to support operations in the United States Central Command area of operations. VMAQ-4 subsequently began operations over the skies of Syria that August.
The Moondogs carried out one final deployment from Incirlik Air Base, Turkey, spanning April to September 2017, in support of Operation Inherent Resolve.
The mission: to "conduct airborne electronic warfare in support of operations, to include suppressing enemy radar and surface-to-air missiles utilizing electronic jamming and high-speed anti-radiation missiles, as well as collecting tactical intelligence in a passive electronic support role," a command release states.
On Saturday morning, Pentagon officials gave details on airstrikes on Syrian chemical weapons sites launched Friday by the United States, United Kingdom and France.
In mid-April, an EA-6B escorted a pair of B-1 bombers as they carried out airstrikes against the Barzah Research and Development Center located near Damascus, Syria.
The strikes were in retaliation for a suspected chemical weapons attack carried out by the Syrian regime against civilians in the village of Douma, Syria, in early April. The EA-6B escort was likely there to suppress enemy air defense systems. 
The Navy's EA-18G is replacing the EA-6B and will serve as the sole joint electronic attack asset for the Defense Department, according to Burns.
"Since 1977 the Marines and Sailors of the VMAQ squadrons have continued their legacy of professionalism and distinguished service supporting continuous deployments and operations from El Dorado Canyon in 1986 to Operation Inherent Resolve all while flying in excess of 250,000 flight hours," Burns said.