Push to move a Norfolk-based aircraft carrier to Florida restarted
By Bill Bartel
The Virginian-Pilot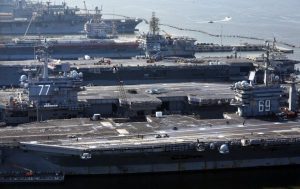 Florida's congressional delegation has restarted its campaign to move a Norfolk-based aircraft carrier to Naval Station Mayport in Jacksonville.
In a March 20 letter to Defense Secretary Jim Mattis and acting Navy Secretary Sean Stackley, the legislators argued – as they have in the past – that homeporting the entire East Coast carrier fleet in Hampton Roads is dangerous.
"The risk to our current and future carrier fleet far exceeds the one-time costs of making Mayport CVN capable," wrote the state's 29-member delegation.
Members of Virginia's congressional delegation who serve on House or Senate armed services committees said in statements Wednesday that the huge cost of building shore facilities needed to keep a carrier at Mayport are prohibitive.
"I think it is inconceivable to consider spending almost a billion dollars on replicating a capability that already exists in Norfolk," said Rep. Rob Wittman, who heads the House panel's seapower subcommittee, which oversees naval operations. "As I consider options as to how to build a 355-ship Navy, I can think of any number of other critical investments that are more important to the war fighter than building redundant infrastructure in Mayport."
Sen. Tim Kaine, a member of Senate Armed Services, agreed.
"Moving a carrier to Florida would cost a lot, stripping money away from other key defense priorities, without advancing our most pressing security goal. That is why past efforts to do this have always failed," the Virginia Democrat said.
Left unspoken by both Florida and Virginia lawmakers is that hosting carriers represents a huge economic boost to a homeport. With the ship come thousands of sailors, construction projects and lucrative support operations.
Mayport once hosted conventionally powered carriers, including the now-retired John F. Kennedy and Forrestal. However, all of today's carriers are nuclear-powered, requiring more sophisticated base operations.
The Florida legislators argued that the Navy "over leverages risk to our carrier fleet" with one Atlantic homeport – particularly because it's located near Newport News Shipbuilding, the sole builder of U.S. carriers.
"Not only are our operational CVN (carriers) in jeopardy, but our future capital ships under construction are practically co-located, risking tens of billions of dollars of assets as well as our ability to project power abroad now and in the future," Florida legislators wrote in the letter, which was posted on Sen. Marco Rubio's website.
Wittman contends the risk is overblown.
"In times of emergency, there are a multitude of ports available on the East Coast to support an aircraft carrier," he wrote. "Furthermore, deep carrier maintenance would still be at Newport News."
Hampton Roads is currently home to six carriers. Assigned to Naval Station Norfolk are the Harry S. Truman, George H.W. Bush, Dwight D. Eisenhower and George Washington.
The Abraham Lincoln has been at Newport News for a three-year, midlife refueling and overhaul that is to be completed by early summer. The George Washington is slated to enter the private yard in August to begin its three-year overhaul.
The Navy's newest carrier, the Gerald R. Ford, is nearing completion at Newport News and expected to be delivered to the Navy in the spring.
President Donald Trump has said he wants to enlarge the Navy's carrier fleet to 12 but has not offered specifics on how that would be funded or on possible homeports.
The Navy, which has been required by law to have 11 carriers, has been operating with 10 for several years – with congressional approval. It will be back to 11 when the Ford is delivered.
Back to Top