The U.S. build-up in the disputed waters of South China Sea continues with bombers, carriers and Electronic Attack planes.
Some interesting photographs have been arriving from the troubled waters of Indo-Asia-Pacific region.
The most recent ones, released on Jun. 18, show the USS John C. Stennis (CVN 74) and USS Ronald Reagan (CVN 76)carrier strike groups (CSG 3 and CSG 5) crusing close each other during dual carrier flight operations in the Philippine Sea.
Such operations included air combat training, long-range strike training, air defense drills as well as sea surveillance.
The CSG 3, that started operations in the Western Pacific on Feb. 4, consists of the aircraft carrier USS John C. Stennis (CVN 74), guided-missile cruiser USS Mobile Bay (CG 53) and guided-missile destroyers of Destroyer Squadron (DESRON) 21, USS Stockdale (DDG 106), USS Chung-Hoon (DDG 93) and USS William P. Lawrence (DDG 110), and the aircraft of Carrier Air Wing (CVW) 9.
CSG 5, begun its summer patrol of the Indo-Asia Pacific, on Jun. 4, and consists of the aircraft carrier USS Ronald Reagan (CVN 76), guided-missile cruisers USS Shiloh (CG 67) and USS Chancellorsville (CG 62) and guided-missile destroyers from Destroyer Squadron (DESRON) 15, USS Curtis Wilbur (DDG 54), USS McCampbell (DDG 85), USS Benfold (DDG 65); the aircraft of Carrier Air Wing (CVW) 5, is forward-deployed to Yokosuka, Japan and routinely, patrols the Western Pacific.
According to the U.S. Navy, the CSGs (Carrier Strike Groups) began coordinated operations in international waters to demonstrate "the United States unique capability to operate multiple carrier strike groups in close proximity."
U.S. Navy aircraft carriers regularly conduct dual carrier strike group operations in the Western Pacific and sometimes also in the South China Sea, East China Sea and Philippine Sea: this occurs when carriers deployed to the 7th Fleet area of operations from the U.S. West Coast are joined with the forward deployed carrier strike group from Japan. When it happens a force of 12,000 sailors, 140 aircraft, six combatants and two carriers operates in the same sea: an impressive "show of force."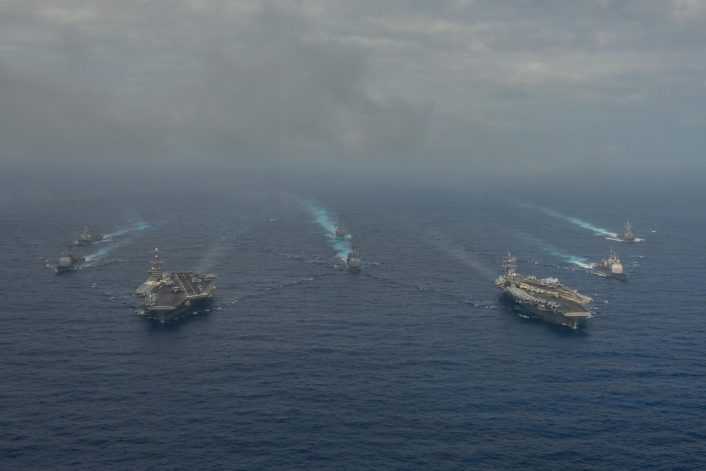 Previously, in Sept. 2012, USS George Washington (CVN 73) and USS Carl Vinson (CVN 70) strike groups conducted combined operation in the South China Sea and East China Sea. In 2001, USS Constellation (CV 64) and Carl Vinson operated together in the South China Sea.
A few days before the two carriers started combined operations, a joint service bombing exercise at the targeting island Farallon de Medinilla, an uninhabited small island in the Northern Mariana Islands in the Pacific Ocean located 45 nautical miles north of Saipan, saw two U.S. Air Force B-52 Stratofortress bombers launched from Andersen Air Force Base, Guam, fly over USS Spruance (DDG 111) in a maritime attack training sortie.
Along with the two carrier strike groups and the B-52 providing extended deterrence, Washington has also deployed to the Philippines the first temporary detachment of Navy EA-18G Growlers.
The electronic attack aircraft have arrived at Clark Air Base, on Jun. 15. Even though they are officially there to train with the local FA-50, the detachment, made of 4 aircraft and 120 personnel with the Electronic Attack Squadron (VAQ) 138, "will support routine operations that enhance regional maritime domain awareness and assure access to the air and maritime domains in accordance with international law."
Therefore, the strategical deployment brought not far from the disputed waters in the South China Sea some cutting-edge aircraft capable to perform electronic escort missions on both U.S. ships and spyplanes that are frequently shadowed by Chinese spyplanes or intelligence gathering ships. Furthermore, the Growlers could jam, if needed, the Chinese radars on the Spratly, Paracel, Pratas and the rest of the islands, including those that have been artificially created, decreasing Beijing ability to establish an ADIZ (Air Defense Identification Zone) similar to that in the East China Sea and to support its warplanes in the area.
The presence of (some more…) EA-18Gs could theoretically limit the operations of the Chinese Air Force (PLAAF) and Navy (PLANAF) that, according to "Flashpoint China: Chinese air power and regional security" published by Harpia Publishing and written by Andreas Rupprecht, one of the most authoritative sources on Chinese Air Power, "are able to ensure virtually continuos, round-the-clock aerial coverage and combat air patrols over the area during a crisis or a conflict."
In particular, the PLANAF is pretty active in the area with a regiment each of H-6 bombers and JH-7 fighter-bombers and no fewer than three regiments of J-11 interceptors covering the South China Sea . "The availability of long-range J-11s and aerial refueling assets implies that much of the SCS [South China Sea] is now de-facto Chinese airspace," says Rupprecht.
It's not a coincidence that a recent close encounter in the area involved few weeks ago two Chinese J-11 tactical aircraft that carried out an "unsafe" intercept of a U.S. EP-3E reconnaissance aircraft on a routine mission in international airspace over the South China Sea.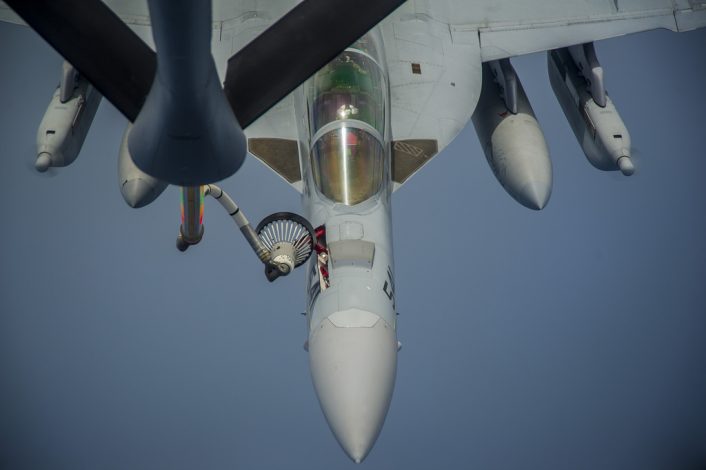 The Electronic Attack Squadron (VAQ) 138 is an expeditionary squadron based at Naval Air Station Whidbey Island, Washington, that has previously taken part in deployments across the region. The Growler detachment comes after a first temporary Air Contingent made of five A-10C Thunderbolt aircraft, three HH-60G Pave Hawk helicopters and approximately 200 personnel deployed from multiple Pacific Air Forces units that took part in exercise Balikatan and completed their final mission on April 28, 2016.