Navy's Triton unmanned aircraft flies cross country
MQ-4C to hit the fleet in 2017, providing wide-area ocean surveillance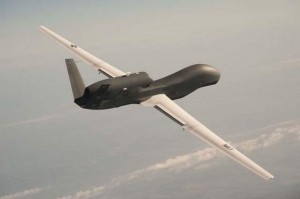 By Meghann Myers 
Staff writer
The MQ-4C Triton is about 3,000 miles closer to the fleet after completing its first cross-country flight, demonstrating its potential to keep up with manned aircraft once it goes operational in three years.
The unmanned surveillance vehicle, the cornerstone of the Navy's Persistent Maritime Unmanned Aircraft Systems Program, landed safely at Naval Air Station Patuxent River, Maryland, the morning of Sept. 18, about 11 hours after taking off from its previous home at a Northrop Grumman facility in Palmdale, California.
"It's almost getting boring, doing the historical every day," Rear Adm. Mat Winter, program executive officer for Naval Air Systems Command's Unmanned Aviation and Strike Weapons program, told reporters at Pax River.
It was the latest in a series of milestones for the ocean sweeping surveillance drone; officials plan to buy 68 of them in coming years.
"The fact of the matter is that the men and the women from Northrop Grumman and the Navy are the ones who make this happen, and who make the impossible seem routine," Winter said.
It was Triton's 16th test flight since its inaugural May 2013 takeoff. When it hits the fleet in 2017, the 131-foot-wide plane will accompany the new P-8 Poseidon maritime surveillance aircraft in patrols over vast stretches of oceans for hours on end.
During this first cross-country flight, Triton flew along the U.S.-Mexico border, across the Gulf of Mexico and Florida, then turned north up the Atlantic Coast.
Though the aircraft had flown a comparable number of hours, it had never left the airspace above its test facility, said Capt. Jim Hoke, MQ-4C program manager.
Now that it's in NAVAIR's hands, engineers will continue to develop the aircraft's surveillance payloads as they test Triton's ability to complete missions as it would in at-sea operations.
The basics
Triton's design is descended from the Air Force's RQ-4B Global Hawk surveillance aircraft, using infrared sensors and cameras to take photos and video of an area and send them back to command.
There are some updates for maritime operations, Hoke said. For example, the wings are sturdier so it can fly low over the ocean in gusts.
Triton will not only hunt enemy ships and submarines, as the old-school P-3 Orions did, but will also be involved in search and rescue missions on the open water.
At 15 feet tall and 48 feet long, the Triton's fuselage is between the size of an F/A-18 Hornet and an E-2C Hawkeye. But its wingspan of 131 feet is much wider than either, which allows it to stay on station for up to 30 hours at altitudes of up to 60,000 feet.
It reached 58,000 feet during its most recent trip and was piloted by two crews, with the Northrop engineers in California passing control to the Pax River team mid-flight.
The switch was technical as well as ceremonial. After more than a year of flight safety tests, Triton will begin testing its operational capabilities in the spring, after two more aircraft make the journey from California to Maryland.
Fleet capabilities
It takes four people to fly a basic flight: one pilot as air control operator; two flight officers serving as sensor operators; and one mission commander, all on the ground.
"When I talk about pilots, this is not like sitting at a video game with a stick and rudder," Hoke said.
The pilots are able to take control of the plane, but it also flies programs mapped out by the software. In flight, all an operator has to do is push a button to get it to change altitude or switch headings.
The crew numbers can shift, based on operational requirements; the plan is for the aircraft to fly more than 24 hours at a time when deployed. The crews will be mostly officers, but with enlisted payload operators overseeing some of the surveillance software.
'Persistent stare'
Triton's suite of sensors — surface search radar, electronic support measures, an electro-optical and infrared sensor, and the Automatic Identification System — can detect ships and surfaced submarines over a 2,000-nautical-mile swath of the ocean, providing awareness for and allowing the Poseidons to focus on anti-surface ship warfare and intelligence.
"You'll have Triton out there as a persistent stare," Hoke said. "Then if it sees something, a P-8 will be able to come out and take care of it."
It's his hope, as well, that a P-8 will be able to take operational control of a Triton in mid-flight, but a plan has not been formally laid out for that.
Ideally, Hoke said, the planes would be flying 24 hours a day, feeding information to an accompanying P-8, as well as to F/A-18 pilots in the area and the carrier strike group commander coordinating plans on the surface.
Back to Top