F-35B training squadron arriving in Beaufort, to start training in October
By MATT McNAB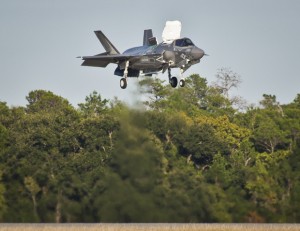 An F-35B Joint Strike Fighter hovers over the runway during the first short-takeoff and vertical landing mission Oct. 25 at Eglin Air Force Base, Fla. The training mission was flown by Maj. Brendan M. Walsh of Marine Fighter Attack Training Squadron 501, which will be stationed at Marine Corps Air Station Beaufort. SAMUEL KING JR.
Members of one of Marine Corps Air Station Beaufort's new F-35B squadrons are arriving in Beaufort, but the new jets won't take to local skies until later this fall, according to air station officials.
The arrival of Marines from VMFAT-501, the F-35B training squadron that will call the air station home, will be celebrated in ceremonies July 11 on base and in the city of Beaufort. However, the first training class won't start flying until fall, said Capt. Jordan Cochran, air station public affairs officer.
Squadron members began arriving in April and will continue to move in through July. The jets, currently stationed at Eglin Air Force Base in Florida, will arrive as pilots finish their training there. Moving the jets as training classes finished in Florida was necessary to prevent a complete halt of training operations and was the first transition of its kind in the Marine Corps, Cochran said.
The training squadron, formerly VMFA-451, was stationed at MCAS Beaufort from 1963 until it was decommissioned in 1997. The squadron was reactivated in April 2010 for F-35B training, according to an air station release.
Crews are arriving at the station before the jets to set up the maintenance and support structure, according to VMFAT-501 commanding officer Lt. Col. Joseph Bachmann. The air station should be prepared for the planes by Oct. 1, and the entire training squadron should be moved in by next spring, he added.
The first two F-35B jets from VMFAT-501 are expected to arrive at the air station this month. By next spring, the squadron will have about 15 of the new jets, split between Beaufort and the Navy's Fleet Readiness Center in North Carolina, Bachmann said.
Because the entire squadron won't be here until spring, the initial training classes will be smaller — only 15 pilots are expected to finish training in the 2014-2015 fiscal year. However, about 60 pilots are expected to be trained each year after that, said Lt. Col. Luis Villalobos, Pilot Training Center officer-in-charge.
Classes that start in October will be composed of experienced pilots transitioning to the new aircraft, said Troy Ward, MCAS Beaufort Site Activation Task Force program manager. New pilots will begin training in 2015. Foreign pilots are also slated to train at the air station, but their arrival is still being worked out.
Training will take between six and eight months, but won't involve much use of the vertical capabilities of the aircraft. About 70 percent of the training uses conventional takeoffs and landings, Ward said.
Only two of the five landing pads built to accommodate the jets will be used at the same time, he said. A mock landing deck to practice and simulate short takeoffs and vertical landings on aircraft carriers and amphibious assault ships will be completed in the fall, Cochran said.
Early training might not include night operations or weapons, but the jets will eventually be upgraded to more advanced capabilities. It's not clear when that transition will be completed, Cochran said.
About 180 new Marines will be stationed at the air station with VMFAT-501, Cochran said. Information about the arrival of personnel or jets from the three other operational F-35B squadrons is not available yet, according to Cochran and 1st Lt. Hector Alejandro, 2nd Marine Aircraft Wing public affairs officer.
It still has not been determined exactly how many F-35Bs will be stationed at MCAS Beaufort, but Col. Bill Lieblin, Marine Aircraft Group 31 commanding officer, told the S.C. Military Task Force in late March that as many as 88 new jets will eventually come to Beaufort.
The new F-35Bs could fly alongside current Marine aircraft at the base until 2030, Cochran said. The first F/A-18 squadron is not expected to begin flying the F-35 until the early 2020s, and the F/A-18 squadrons won't be gone from the air station until the end of the next decade.
Construction of facilities for the new Joint Strike Fighters began with the groundbreaking for a new hangar and pilot training facility in August 2011. When former air station commanding officer Col. Brian Murtha retired from his post in February, nearly $260 million in construction projects had been completed or started, and an additional $300 million in construction projects had been planned over his tenure.
However, construction of new facilities at the air station for the F-35B won't be completed until the next decade, Ward said.
"We are just at the end of the beginning of adding facilities that support the F-35," he said. "We have construction underway on two other projects and will start work on a second F-35 hangar this fall. We will not be complete with F-35 projects until the early 2020s."
Also unclear is how loud the aircraft will be. In March, the air station released updated Air Installation Compatible Use Zone boundaries, depicting flight paths and noise zones for the new aircraft. The zone is 4,000 acres larger than its predecessor and is based on environmental studies that used the F-35A, the Air Force's variant of the aircraft, which does not have vertical landing or short-takeoff capabilities.
So far, no noise study on the F-35B has been released. Attempts to reach Marine Corps Headquarters public affairs for comment Wednesday and Thursday were unsuccessful.
An auxiliary landing field could alleviate some of those noise concerns, by offering an alternate site for the jets to land and train. A group formed by the area's Military Enhancement Committee will examine that possibility, but it could take years before it comes to fruition, committee chairman Jim Wegmann said.
Back to Top