Helo crashes in Florida training; injuries minor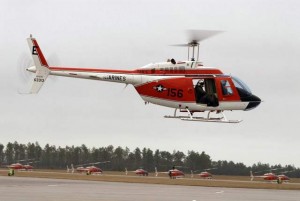 TH-57 Sea Ranger, like the pictured, crashed Thursday near Naval Air Station
Whiting Field in Pace, Florida. (Alan Warner / U.S. Navy)
By Meghann Myers
A flight instructor and student sustained minor injuries Thursday morning after their helicopter crashed during a training flight in the Florida panhandle, a Navy spokeswoman said.
The Marine Corps captain and Navy ensign trainee collided with trees when their TH-57 Sea Ranger helicopter went down in Outlying Landing Field Spencer at Naval Air Station Whiting Field in Pace, Florida, Naval Air Training Command spokeswoman Lt. Brynn Olson told Navy Times.
They were treated at a local hospital and released on Thursday, Olson said. There are no groundings in place, she said, but that field was shut down for the day.
"Following the incident, we went ahead and used the other outlying fields," she said.
An investigation in the crash will start right away, Olson said. The incident comes just a month after a T-34C Turbomentor crashed off the coast of Texas, the Navy's 10th major aviation mishap of the fiscal year.
Naval Air Forces boss Vice Adm. David Buss ordered a tactical pause following that incident.
"… I ask each of you to review the details of the 10 Class Alpha mishaps this fiscal year and find the threads that make sense to your squadrons depending on the phase of the [Fleet Readiness Training Plan] that they are in," Buss wrote in a message to squadron commanders, obtained by Navy Times.
The Thursday morning helo crash was the second mishap in 24 hours for the Navy, after an F/A-18E Super Hornet plunged into the Pacific Ocean while trying to land on the aircraft carrier Carl Vinson on Wednesday night. The pilot was unharmed.
Back to Top