Navy pays 1 cent to scrap ex-carrier Saratoga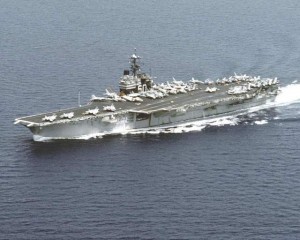 The aircraft carrier Saratoga, here underway in 1992, will head to the scrapyard after the Navy paid a salvage company 1 cent to take the former flattop apart. (PH3 Bruce W. Moore / Navy)
The decommissioned aircraft carrier Saratoga is officially headed for the scrapyard after the Navy paid one penny to a Texas scrapyard to dismantle the 81,101-ton flattop that once blockaded Soviet ships during the Cuban Missile Crisis.
Saratoga will head to Brownsville, Texas, later this year for scrapping by the company ESCO Marine, Naval Sea Systems Command said in a Thursday news release.
The Saratoga is the second of three conventionally-powered carriers destined for scrapping. All Star Metals received the Forrestal earlier this year, also taking on the flattop for a penny. A third contract is pending for the Constellation, with International Shipbreaking Ltd.
The one-cent payment is the lowest the Navy can offer to the company to take the flattop off the fleet's hands. ESCO Marine will keep the profits from the sale of the scrap metal.
The carrier, the sixth Saratoga in U.S. history, was decommissioned in 1994 after 38 years in service. Despite attempts to turn it into a museum, the Navy decided in 2010 that none of the applications to turn it into a public display was up to par.
In addition to its pivotal role in the 1962 Cuban Missile Crisis, "Super Sara"was also involved in a 1986 airstrike against Libya.
The carrier is expected to make its way to Texas this summer from its current berth at Naval Station Newport, Rhode Island.
Back to Top