F-35B To Fly At Christening Of Brits' Newest Aircraft Carrier, If Weather OK
By Colin Clark
WASHINGTON: Do not expect any official confirmation, but the British will allow Lockheed Martin's F-35B to make its first flight outside of the United States on July 4 when the country's newest aircraft carrier is christened by Her Majesty the Queen.
Apparently eager not to disappoint Queen Elizabeth, should the plane not be able to fly in the Scottish weather, and desirous of keeping the media's focus on the majestic carrier upon which she will be cracking a bottle of Champagne open, the powers that be have decided not to confirm or deny that the aircraft will be on hand. (Could the Queen Elizabeth be christened with a good single malt Scotch, given the locale? Also, the Royal Navy no longer calls them christenings; it's officially a naming ceremony. Sigh.)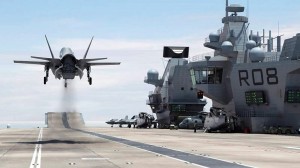 A computer-generated image of a Royal Navy F-35B taking off vertically from the new carrier HMS Queen Elizabeth, which will be commissioned July 4th.
The push to give the F-35B such a high profile in Britain — and thus around the world — originated with Gen. James Amos, the Marine Commandant and a pilot. Being a canny fellow, Amos recognized how a fly-by at the new carrier's christening could boost the plane's fortunes and he pushed hard for it. The Royal Navy balanced the goodness of hosting a fly-by of the plane that will help make their new carrier such a potent weapon, against the possibility the flight would overshadow the carrier.
Bottom line: the carrier is a certainty and there are still forces that might curtail purchase of the F-35Bs, so the decision was made to go ahead. You can be sure that BAE Systems, prime contractor on the carrier and one of the most important subcontractors on the F-35 program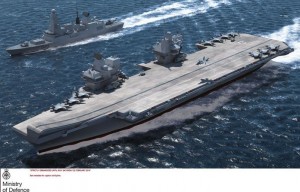 pushed hard for the plane to fly and the company boasts significant political heft because of the large number of jobs resulting from from work on the carrier and the F-35.
The "naming ceremony" will be held at Rosyth, the famed ship yards on the Firth of Forth. Flight trials of the F-35B from the Queen Elizabeth are due to start in 2018. After the christening, the F-35B is also scheduled to fly at the Royal International Air Tattoo and then at the Farnborough Air Show.
What are the odds for the christening flight? I checked weather statistics for July in Rosyth and they aren't too gloomy. The month of July has an average of 10.4 rainy days. You can bet the Met will keep an especially close eye on the weather in Rosyth this July 4. Good luck, Ma'am.
Back to Top