Russia deploys combat aircraft to Belarus
Gareth Jennings, London – IHS Jane's Defence Weekly
16 March 2014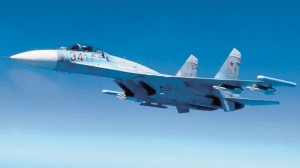 A Russian Air Force Su-27 'Flanker' that was intercepted by French jets of the Baltic Air Policing Mission in mid-2013. Russia has sent six such fighters to Belarus as tensions in Ukraine continue. Source: French MoD
Russia has deployed a number of fighter and airborne early warning (AEW) platforms near to Ukraine in response to US and NATO aircraft movements in Eastern Europe, state media reported.
The Russian Air Force (Voyenno-Vozdushnye Sily – VVS) sent six Sukhoi Su-27 'Flanker' fighters and three unidentified transport aircraft to Belarus on 13 March, RIA Novosti reported. This was followed two days later by the deployment of a Beriev A-50 'Mainstay' AEW platform to Baranovichi Air Base in Belarus.
The move is being seen as a direct response to the US Air Force's (USAF's) deployment of six additional Boeing F-15C Eagle fighters to the NATO Baltic Air Policing mission in Lithuania and 12 Lockheed Martin F-16s to Poland the week prior, and to the NATO and UK Royal Air Force (RAF) sending Boeing E-3 Sentry Airborne Warning And Control System (AWACS) aircraft to patrol the Ukrainian border.
Separately, the Russian Navy has begun air defence exercises from the Admiral Kuznetsov aircraft carrier, which is currently sailing in the eastern Mediterranean Sea. While the Sukhoi Su-33 'Flanker-D' air defence fighters and Kamov Ka-27 'Helix' anti-submarine helicopters are too far away to directly intervene in the Ukrainian crisis, their exercising is no doubt designed to send a clear message of Russian intent and resolve to face down any Western response to Russia's invasion of Crimea.
ANALYSIS
While the deployment of combat aircraft to Belarus was undoubtedly intended by Moscow to deliver a message of intent to the West, it is worth noting that, as in the case of the US deployments to Lithuania and Poland, the siting of Russian combat aircraft at Baranovichi Air Base had been in the planning for many months before the current crisis in Ukraine began in February.
In December 2013, state media disclosed that Russia was bolstering its western air defence capabilities with the deployment of a squadron of Su-27s to Baranovichi Air Base, and with the standing up of a new long-range air defence radar that can take in most of Europe and a large swathe of the Middle East.
It is not clear if these latest Su-27s are part of that original squadron, or if they are additional assets (the transport aircraft will no doubt just be ferrying support personnel and equipment, and so are not that significant in themselves), but the arrival of six new fighters and an AEW aircraft into the region is unlikely to have any material effect on events on the ground.
Ukraine is within easy range of most of NATO's and a large slice of Russia's aerial inventory, which is demonstrated by the relatively minor aircraft movements being seen from both sides. These movements by both the United States and Russia are geared more towards sending signals of intent and showing support to regional allies than with bolstering combat capabilities, which is shown in the numbers and basing locations involved.
Neither side seems willing at this stage to escalate the situation by sending to the immediate locale the numbers or types of aircraft that could have any meaningful effect on the ongoing crisis.
Back to Top