Kendall Pushes Back on Criticism of Navy's P-8A Poseidon (UPDATED)
By Stew Magnuson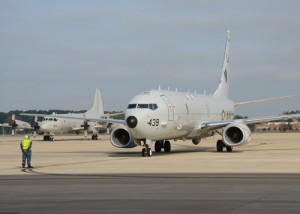 P-8A Poseidon
The Defense Department's chief acquisition executive Jan. 28 defended the Navy's
new P-8A Poseidon submarine-hunting aircraft in the wake of a report that said
it had been deployed with major "deficiencies."
Frank Kendall,  undersecretary for acquisitions, technology and logistics, said an unreleased report by the office of operational testing that criticizes the program was
"factually correct," but didn't tell the whole story.
"The aircraft actually is what I think a relatively successful program despite the tone of
that report," Kendall said before the House Armed Services
Committee.
The aircraft, 13 of which have been built so far, was not effective in conducting wide-area searches for submarines, according to news reports. The P-8A "is not effective for the intelligence, surveillance and reconnaissance mission and is not effective for wide area anti-submarine search," said a report obtained by Bloomberg News before it was released to the public.
Rep. Jackie Speier, D-Calif., asked Kendall a series of pointed questions in reference to the P-8A, including reports that it was unable to defend against cyber-attacks.
Kendall said: "The P-8 is being fielded in incremental capabilities … This is all part of how the program was laid out. It was laid out to field a certain level of capabilities initially and then to add more capabilities."
When asked if he disputed the report outright, Kendall responded that "the report is factually correct, but it doesn't acknowledge the fact that this was the plan. The plan was to develop a certain set, then field a certain set of initial capabilities for local anti-submarine
warfare capabilities, then add capabilities to that in increments."
Michael Gilmore, chief of the testing office, "is right in that we do not have all the capabilities we want to have. But we are going to get there," Kendall said. He added that "it is an acquisition strategy that has been used on a number of programs."
Six of the Poseidons have been sent to Japan so far, where they are expected to search for Chinese submarines. The $35 billion program is slated to field a total of 113 of the Boeing-built aircraft.
"The things we did put in are working as expected. They are doing what we wanted them to do. … We are going to move on to a wider area of surveillance capabilities within a few years," Kendall said. This will occur when additional sensors and computer processing are added to the aircraft, he said.
The word "deficiencies" was being taken out of context, he suggested. "It just means it can't do certain things. It doesn't mean it is a bad design — that there are problems with the airplane. It is a very good product."
As for the reports that the aircraft did not have robust defenses against cyber-attacks, Kendall spoke generally.
"We're trying to strengthen our cyberdefense capabilities across the board. Anything that
hooks up to the Internet has some vulnerabilities built into it. We put some protections in place but it is a constant struggle to stay ahead of our adversaries," he said.
Red teams during the testing process were consistently able to penetrate and exploit the networks, Speier said. Local networks were unable to defend against a determined or well resourced adversary. There was a moderate to high risk that the P-8 could be penetrated during war time, she said, referring to the report.
The red teams were able to "talk their way into the systems," Kendall said. "It is more of a training issue than it is anything else. … People who operate the system have to understand their jobs and be much more careful about whom they give access to. That is
another thing we absolutely have to work on more."
Speier requested that Kendall provide a more specific answer on what is being done to prevent cyber-intrusions on the P-8.
Back to Top