Federal spending bill inches towards pay raise for service members, but underfunds aircraft carrier construction
By Bill Bartel
The Virginian-Pilot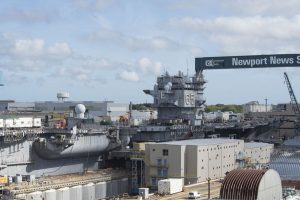 The USS Enterprise is seen at Newport News Shipbuilding in October 2016
Congress is scrambling to pass a spending bill to avoid partly shutting down the government at midnight Friday, one that includes some good news for the Hampton Roads military community. But it leaves out millions expected for aircraft carrier construction at Newport News Shipbuilding, the state's largest industrial employer.
Rather than approve a federal budget to cover the entire fiscal year, which ends Sept. 30, budget negotiators on Capitol Hill unveiled late Tuesday a temporary five-month spending plan – called a continuing resolution, or CR – to keep paying the bills until April 28. However, most spending would remain at 2016 levels, with some extra expenditures that affect southeast Virginia.
Among the additions are extra funds needed to give all service members a 2.1 percent pay raise Jan. 1. The bill provides new appropriations to finance work at Newport News on the replacement of the aging Ohio-class ballistic-missile submarines.
The spending plan also includes $86 million for brick-and-mortar construction projects at Norfolk Naval Station and Joint Base Langley-Eustis. And it includes extra money for overseas Defense Department operations in the Middle East and elsewhere.
However, the CR limits funding for the carrier construction projects at Newport News to 2016 levels, which is $500 million less than was requested for 2017 for the early work on building the new carrier Enterprise, known as CVN 80.
Virginia's two senators – Mark Warner and Tim Kaine – unsuccessfully pushed for the extra carrier money and argued that failing to fully fund the project could raise the ship's price tag and cost jobs.
"This is likely to lead to schedule delays and increased costs at a time when our carrier fleet is already stretched thin, leading to extended deployments, deferred maintenance, and potentially reduced life spans for these strategic assets," Warner wrote in an email.
Kaine said in a statement that Congress's unwillingness to pass a full-year budget "is once again creating unnecessary budget uncertainty that will ripple through our defense programs, contracts, and workforce."
Christie Miller, spokeswoman for Newport News Shipbuilding, wrote in an email that the company was "disappointed" the temporary spending bill doesn't include extra carrier funds requested by the Navy but did not say how the reduced funding might affect the shipyard.
"We appreciate the efforts of the Virginia delegation in support of CVN 80," Miller wrote. "We will continue to work with the Navy on prioritizing our long-lead-time material procurement for CVN 80 given we will be limited through this CR by Congress to FY 16 funding levels."
It was also unclear Wednesday how the temporary spending plan might affect Navy contracts with other regional shipyards where the overhauling of military ships provides work for many contractors and subcontractors.
Congress is expected to pass a companion bill – the National Defense Authorization Act – that directs how the Navy and other agencies spend their money. That $619 billion measure supports the requested funding for carriers, the pay raise and other items but can be carried out only if Congress allocates the money in the separate budget bill.
Rep. Scott Rigell, a Virginia Beach Republican, reiterated his longtime view that short-term spending bills are costly and inefficient. But Rigell, who leaves the House of Representatives in January after deciding not to seek re-election, said he plans to vote for the CR because the "most critical" extra expenses were included, such as the submarine program.
Back to Top