OFF THE COAST OF NORFOLK, Virginia — Even for those familiar with the impressive acreage of a Nimitz-class carrier flight deck, the vastness of the Gerald R. Ford's flattop is eye-watering.
While the Navy's newest class of supercarrier has the same overall footprint as the predecessor class, its use of space is different: The Ford's "island," which houses its command center, is set 140 feet further aft and has been slightly redesigned. It creates a more substantial stretch of aircraft flight line at the fore, with five usable acres compared with the Nimitz's four and a half.
That and other much-publicized design features, such as advanced weapons elevators and in-deck fueling stations, are intended to allow the carrier to launch more aircraft sorties at a faster rate. But how many more sorties, and how much faster? The captain of the Ford and other leaders say they just don't know yet.
Making these determinations about just what the Ford is capable of and how to employ it in a fight is a key objective as the ship completes its first-ever integrated strike operations underway, with most of a carrier air wing launching from the deck, dropping inert bombs and executing complex training operations. And how many aircraft it can launch in a sortie window is just the start of it.
On Tuesday, the Ford was reminiscent of an avian Noah's Ark as E-2C Hawkeyes passed overhead in pairs, and F/A-18 Super Hornets and C-2 Greyhound delivery planes launched and descended — the sky teeming with the silhouettes of Navy birds. Some 35 aircraft operated from the ship as it got underway for post-delivery test and trial (PDT&T). And while the famously expensive and tech-loaded carrier is still years from being ready for its first deployment, officials say they're about 17% ahead on testing, and optimistic that the ship's history of developmental delays and missed deadlines is in the rear view.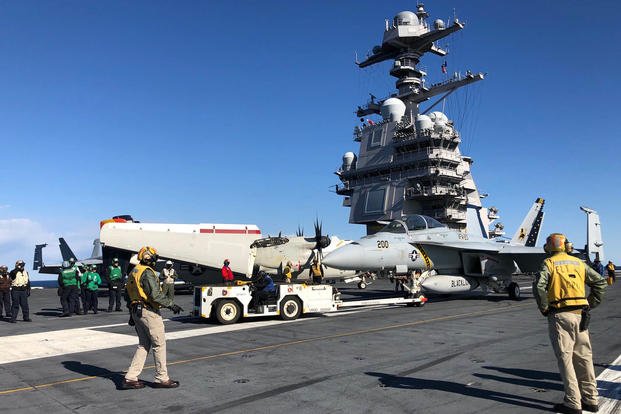 During a 12-plane Super Hornet launch and recovery period that Military.com observed, the ship's digitally controlled Advanced Arresting Gear, replacing the legacy hydraulic aircraft recovery system, operated without a hitch, with all landing aircraft catching the first or second of the system's three wires. Several aircraft were waved off as crew raced to reset the deck from a previous landing; in one case, crew members ran to free a jet that hadn't properly unhooked itself from a loop of the massive recovery cable.
Similarly, the Electromagnetic Aircraft Launch System, or EMALS, which replaces the older steam-based catapult system, got planes airborne without a noticeable hitch. As recently as this summer, the system was working out bugs; on June 2, the crew of the Ford discovered an issue with the EMALS power handling system requiring a workaround, USNI News reported.
Ford's commanding officer, Capt. J.J. Cummings, told Military.com that no similar issues had come up since the PDT&T underway began in early November.
"Sure, occasional glitches, quick reset, back in the fight, no impact of mission," he said. "So we get those occasionally. And we're working through those, because we're still in post-delivery test and trial, but again, no impact on the recovery or no impact to the launch."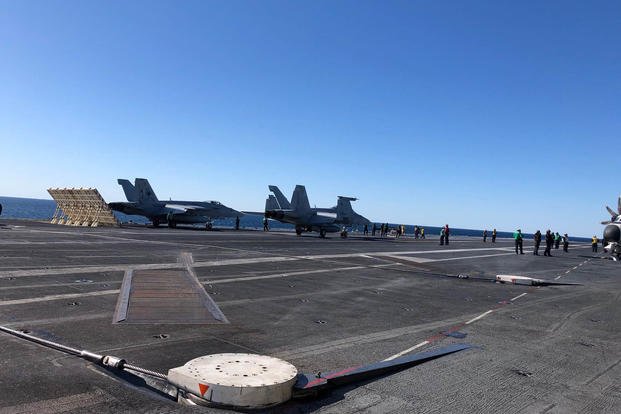 Cummings emphasized that operating the software for the Advanced Arresting Gear in particular requires substantial on-the-job training, and sailors are still building their familiarity with it and learning how to troubleshoot issues.
"The learning curve is just how to better understand the system technically, and as we get smarter about how certain [issues], and how we can clear them and get back to work. So that's the learning curves, basically work in the software," he said.
Officials said they find the speed of operations is most often limited by human elements, as the flight deck crew adapts to the rhythm of launch and recovery. The ship's current objective is to recover an aircraft every 55 seconds; already, during PDT&T, the crew has been able to get four jets airborne, from four different catapults, in the space of one minute, 47 seconds.
"We're rapidly hitting the point where the limitation on EMALS is how fast the flight deck crew can taxi aircraft in the shuttle, get us hooked up, run through our pre-launch checks, and then get the aircraft airborne," Rear Adm. Craig Clapperton, commanding officer of Carrier Strike Group 12, told reporters aboard the Ford. "What we have seen since we first came out here in March to where we are now in November, it's night and day from where we were, and it's trending in a great direction."
In January, the Ford had completed 747 aircraft launches since it was delivered to the Navy in May 2017; it now has nearly 6,000.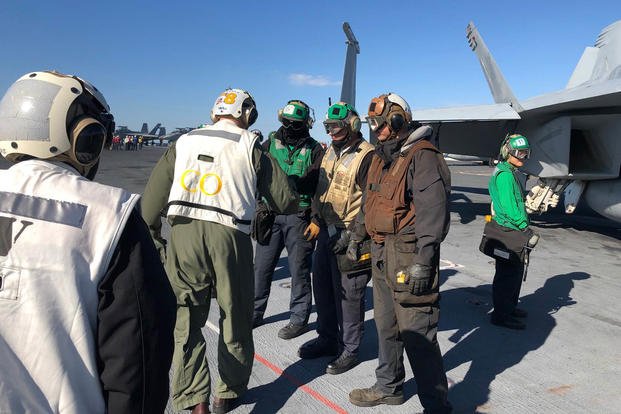 But new concepts are also being tested beyond the flight deck. Aboard Ford for the trial period were a larger-than-usual array of carrier strike group officers. In addition to Cummings and Clapperton were Information Warfare Commander Steve Shepard and Capt. Corey Keniston, commanding officer of the guided-missile cruiser Normandy and the air defense commander of the strike group.
Shepard represents a new capability; as Military.com previously reported, the position of information warfare commander was added to the staff of carrier strike groups only last year. Shepard said the underway was the first time the ship's 400 information warfare personnel were able to come aboard and learn how to operate in Ford's IW spaces, which are more closely grouped and designed to be reconfigurable.
On the day Military.com observed the IW command center, sailors drilled for a notional strait transit in a high-traffic area, such as the Bab-el-Mandeb between Yemen and Djibouti, even though the carrier in reality moved through the open waters of the Atlantic, some 60 miles off the coast of Norfolk. The first of the Nimitz class of carriers was commissioned in 1975; the Ford was built with a much clearer picture of what modern information warfare is — and the humility to create space for future unknowns, with spaces that can be reorganized without major construction and redesign efforts.
Shepard said the layout allows for better synchronization of gathered intelligence and communication, and thus more effective command-and-control.
Rear Adm. James Downey, the Navy's program executive officer for all aircraft carriers, added that information collection and passage within the ship will also be smoother and faster.
"[The commander] knows to go into certain areas, rather than 16 different areas, to know what's going on," he said.
The presence of Keniston, Normandy's commander, represented the most dramatic departure from tradition. Typically, the air defense commander would not be aboard the carrier, but the Ford's more advanced intelligence collection systems mean the carrier will be able to offer more in the intelligence collection picture for the entire carrier strike group when it deploys. These capabilities include a new suite of sensors, notably the AN/SPY-3 X Band multifunction radar and an AN/SPY-4 S Band volume search radar, which together make up its dual-band radar system.
"As we're moving through the air defense picture, life-and-death decisions are being made," Keniston said. "What we're defining now — frankly, I'm here for two big reasons: one, to understand [the Ford's] capabilities, and two, to understand the commanders and the process."
In a later statement, he called the radar system a "game-changer" for surveillance and identification of threats.
"As we determine new procedures, new tactics, how we're going to work together, it's exciting," Keniston said.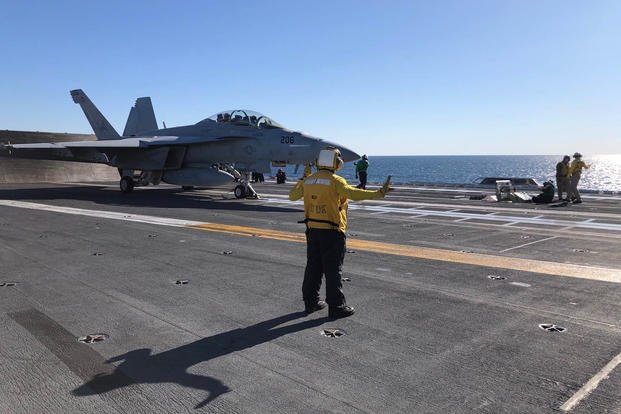 Still ahead for the Ford is full-ship shock trials this spring, in which the carrier's ability to withstand an enemy attack of up to three shots is tested. Before the ship ever conducts an operational deployment, it must be modified to accommodate the F-35C Joint Strike Fighter, which won't happen until 2024 or 2025. And the ship's advanced weapons elevators are still only partially operational. During the underway, contractors with Newport News Shipbuilding worked to get the seventh of 11 up and running.
It's a long journey for a $12 billion carrier christened in 2013.
But leaders believe the Ford promises not only a newer and more advanced class of ship, but also updates to the way the strike group fights.
"You know, what I think we're really trying to make sure that we learn how to do is, this is going to be a Ford strike group, not a Nimitz strike group," Clapperton said. "And certainly all of us have experience operating an Nimitz strike group. So what we're really trying to figure out is, what are some of the things that are going to be different with a Ford strike group. This is only our first iteration of that."
— Hope Hodge Seck can be reached at hope.seck@military.com. Follow her on Twitter at @HopeSeck.