For decades, landing signal officers have stood on air strips and flattop decks, assessing student pilots coming in for landings, grading how those freshly winged aviators handle carrier qualifications, a penultimate step in a Navy fighter pilot's schooling.
But many of those officers, known as LSOs, had been making so-called "bottle bets" with their charges.
And according to documents obtained by Navy Times, the long-time practice was both widespread in that tiny world of trainers and almost completely unknown to outsiders.
But in a message to the aviation community early last year, Vice Adm. DeWolfe "Bullet" Miller III outlawed the tradition, consigning bottle bets to naval aviation's storied past.
"Practices like bottle bets with landing signal officers casts those in positions of leadership and mentoring as betting against the success of their charges, clearly not our intent," Miller wrote.
"And practices where instructors expect to receive gifts from their students do not reflect who we are."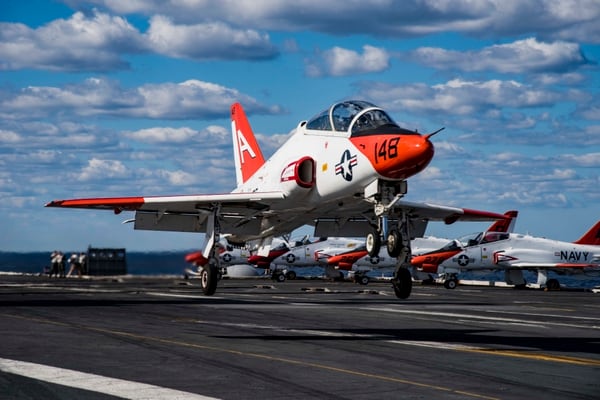 A T-45C Goshawk assigned to Carrier Training Wing 1 in 2017 performs a touch-and-go on the flight deck of the aircraft carrier Dwight D. Eisenhower while Ike was underway in the Atlantic Ocean. (Navy)
It offers a peek into the often-closed community of aviators and what ultimately killed off a boozy tradition that had lasted generations.
It all began with a wager.
The LSOs taking students through carrier qualifications — or CQ — made bets with their students regarding a variety of landing criteria, from hitting the correct target wire to catching it on their initial hook-down pass.
When students flying the T-45 Goshawk training aircraft or F/A-18 strike fighters didn't hit the marks, they 'd owe their LSO a bottle of booze.
Also known as "Paddles" in homage to their lower-tech predecessors who used ping pong-like rackets to guide pilots to safe landings, LSOs would make off with bottles of top-shelf liquor bought by their CQ pupils.
In at least one squadron, students were told in recent years that they would not get their carrier qualification stamp in their logbook until they settled up the bottle bets, according to the records obtained by Navy Times.
At least one pilot reported that some students were uneasy with the practice but worried it would be career suicide if they refused to go along, records show.
This was all in addition to "party bets," where all the students had to win wagers for actions such as hitting the target wire on five of the first 10 hook-down passes when landing on a carrier.
"You are only required to take the party bet, however your reputation as a quiche eater will endure if it is the only bet you take," one squadron's official LSO bet briefing sheet included in a 2017 whistleblower complaint about the practice notes.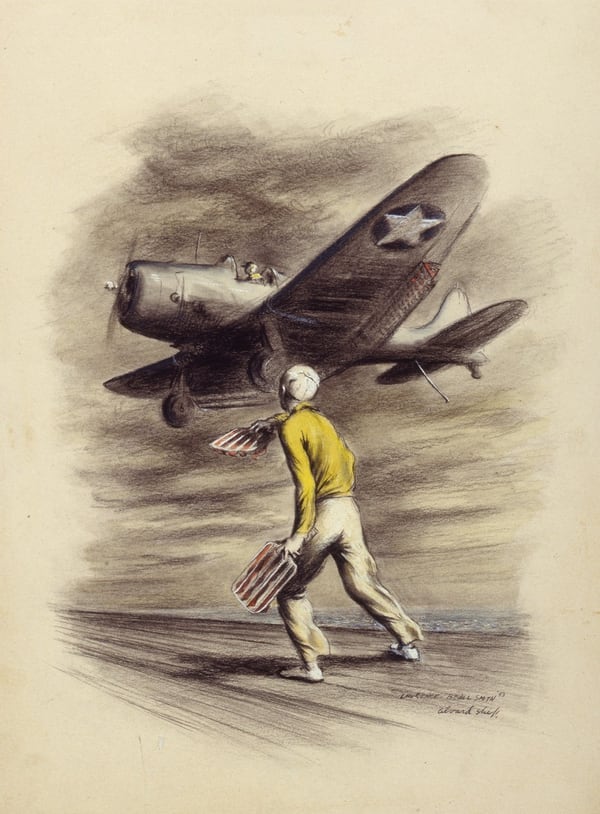 An incoming Douglas Dauntless dive bomber makes a satisfactory approach to the flight deck of an aircraft carrier and the pilot gets the signal to cut his engine from the Landing Signal Officer. The waving "paddles" of the Landing Signal Officer are the guides of incoming pilots, and their semaphored signals are final authority in all landings. If the Landing Signal Officer is dissatisfied with the approach, he signals a "wave-off" and the pilot zooms up to go around again. (drawing, charcoal and goauche on paper; by Lawrence Beall-Smith in 1943. The gift from Abbott Laboratories now resides in the collections of the U.S. Naval History and Heritage Command)
By November of that year, the whistleblower — a pilot — had had enough of bottle bets, according to the records.
The name and job description of the pilot who first spoke out against bottle bets are redacted in the copy of the Naval Inspector General's probe obtained by Navy Times, as are names of the involved squadrons and other aviators.
But it's clear that the whistleblower initially reported the beef against bottle bets to the U.S. Fleet Forces Inspector General in November 2017.
The following month, the pilot wrote to Sen. Mark Warner's office for more help.
The whistleblower told the Virginia Democrat that the Fleet Forces IG complaint got pushed down to the Naval Air Force Atlantic IG, despite the pilot's contention that bottle bets were a problem extending to training and fleet replacement squadrons nationwide.
Rumors quickly swirled throughout the aviation community that someone had squealed about the tradition.
"Numerous students have shared with me that they are not okay with 'bottle bets,' but they are afraid that it could harm their careers if they do not participate," the pilot wrote.
"Based on the fleet-wide reaction to my report, they have good reason for concern."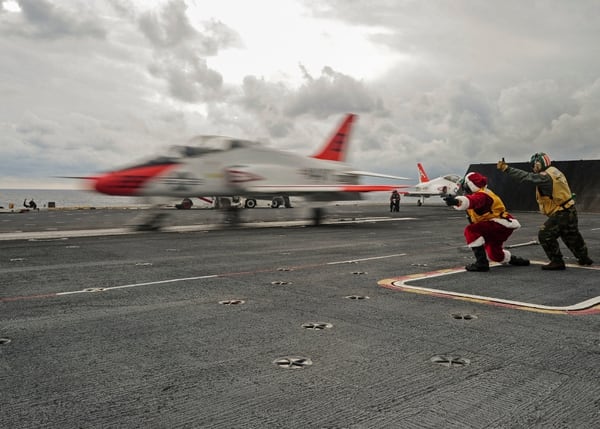 Santa Claus gives the signal to launch a T-45C Goshawk from Training Air Wing Two on the flight deck of the aircraft carrier George Washington in late 2016. George Washington was underway in the Atlantic Ocean. (Navy)
The pilot alleged that bottle bets were going on at fleet replacement and training squadrons across the country, from the "Gladiators" of Strike Fighter Squadron 106 in Virginia to Naval Air Station Whidbey Island where the "Vikings" of Electronic Attack Squadron 129 fly Washington's skies.
"Every command that conducts CQ most likely carries out 'bottle bets,' to include VFA-122 at NAS Lemoore, VAQ-129 at NAS Whidbey Island, VT-7 and VT-9 at NAS Meridian, and VT-21 and VT-22 at NAS Kingsville," the complainant wrote.
The Naval Inspector General substantiated the allegation and wrote in its final summary that the evidence suggested "a systemic problem."
"This practice is condoned by squadron leadership through active participation," the pilot wrote. "Instructors pressure students into participating by threatening to withhold pilot logbook stamps that certify completion of CQ, and to undermine the reputation of any student who does not agree to their bets."
And that breaks ethics and federal regulations regarding gifts between employees, the pilot wrote.
"Tradition is not an acceptable justification or defense to continue a practice that violates federal law and exploits subordinates," the pilot wrote.
While the practice was supposed to be voluntary, the culture inside naval aviation suggested otherwise, according to the pilot.
"The very nature of the instructor-student relationship, the high pressure inherent in carrier qualifications, and the significant role an individual's reputation plays in his or her potential for advancement makes it very unlikely that a student will refrain from going along with 'bottle bets,'" the pilot wrote.
Because LSO instructors are the sole arbiters of whether a student pilot lands properly during the carrier qualifications phase, refusing to go along could prematurely end a young aviator's career, the pilot wrote.
"The potential consequences of failing CQ places tremendous pressure on students to participate," the whistleblower continued.
"A new pilot's reputation is a common source of discussion throughout flight training and considered a vital component for future advancement and a successful career."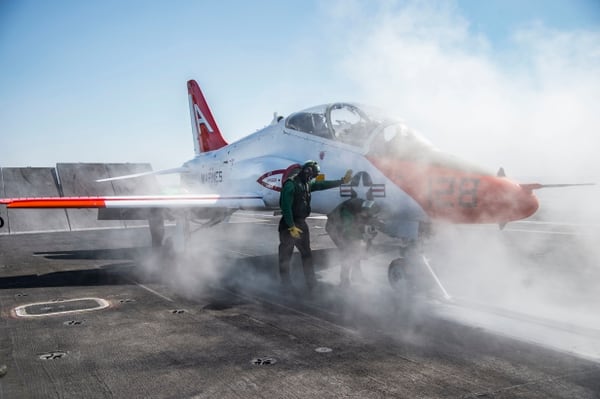 A T-45C Goshawk assigned to Carrier Training Wing 1 in early 2017 prepared to launch from the flight deck of the aircraft carrier Dwight D. Eisenhower while Ike was underway in the Atlantic Ocean. (Navy)
The pilot included undated squadron bottle bet spreadsheets in his complaint that showed nine students owed at least 43 bottles to their instructors.
That spreadsheet states that a bottle should cost "$40 max," while two bottles owed equals a "Nice Bottle" and three owed equals a "High End Bottle."
"PILOTS GET EXACT BOTTLE ORDER FROM LSO!" the spreadsheet's author mandated.
The pilot suggested in his complaint that some LSOs could bank booze worth thousands of dollars throughout several CQ phases each year.
Records submitted with the complaint include an official "LSO Bet" form that laid out how the bottle bet system worked at one squadron, but its name was redacted in the documents obtained by Navy Times.
"Attached is the Bet Sheet breakdown for our most recent CQ detachment for the agreement that you all signed," a message from an unidentified member included in the complaint states. "You can see your bets and whether you won/loss, at the bottom you can see the fines assessed against you for your various infractions."
Infractions were listed separately from landing bets on the spreadsheets attached to the complaint.
One sheet showed booze owed for telling "the longest joke ever" and another for "not offering Paddles a beer at debrief."
Another message noted that in one group, only one student won a bet. What was wagered, however, wasn't spelled out in the message.
"CQ logbook stamps will not be issued until BOTH parties in each crew have fulfilled their bets," one message states. "YOU HAVE TO GET YOUR LOGBOOK STAMPED PRIOR TO LEAVING THE SQUADRON."
In the letter to Warner, the whistleblower wrote of being past a point in Navy career where a bottle bet would need to be paid, and the pilot wrote of never taking one. That suggested the aviator once served as an LSO.
"I understand that there may be a lot of sentimentality and tradition with these 'bottle bets,'" the whistleblower continued. "However, it certainly would not be excusable if they involved cash, and the law does not differentiate between the two."
After substantiating the pilot's claims, Naval Inspector General investigators worried they might have uncovered a larger problem and briefed both Chief of Naval Operations Adm. John Richardson and "Air Boss" Miller.
About a month after he became the sea service's top aviator, Miller released a Feb. 24, 2018 "Personal For" message that banned bottle bets across the Navy.
"Ours is an inherently risky, yet exhilarating and rewarding profession, and naturally our culture manifests itself through a variety of customs and practices," Miller's message states.
"But every now and then, drift sets in and we find ourselves wavering away from our professional roots."
He stressed that naval aviators must celebrate the triumphs in their unique and adrenaline-fueled profession, but they still should do the right thing "every time."
"The relationship between instructors and students, teachers and learners, senior aviator to junior nugget is truly unique," Miller wrote.
"I encourage recognition of those events where we have reached our theoretical limit — like landing a burdened aircraft on a dark and stormy night with a pitching deck."