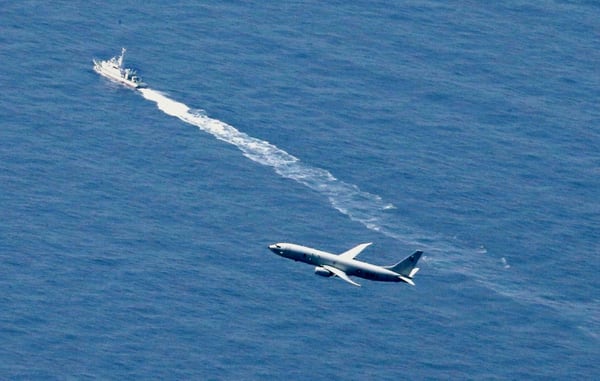 A Japanese Coast Guard vessel and a U.S. military plane search for a Japanese fighter jet, in the waters off Aomori, northern Japan, on April 10, 2019. (Kyodo News via AP)
MELBOURNE, Australia — Japan has started combing the seafloor of the Pacific Ocean for the wreckage of its F-35A Lightning II Joint Strike Fighter, two days after the aircraft crashedinto waters off northern Japan.
Defense Minister Takeshi Iwaya, addressing the media on Friday morning Tokyo time, said the Japan Maritime Self-Defense Force has deployed a submarine rescue vessel to search the depths in the area where the F-35A crashed. The area is estimated to be about 5,000 feet (1,500 meters) deep.
The pilot of the crashed F-35, who the Japan Air Self-Defense Force identified as 41-year-old Maj. Akinori Hosomi, is still missing. He was taking part in an air combat training mission with three other F-35s on Tuesday evening when the pilot and aircraft lost contact with other members of the flight and disappeared from radar approximately 85 miles (135 kilometers) east of Misawa Air Base in the northern part of Japan's main island of Honshu.
The Misawa-based aircraft disappeared soon after Hosomi — who had 3,200 flight hours under his belt that included 60 on the F-35A — told the other pilots taking part to end the training portion of the flight. No other communication was subsequently heard from him, and none of the other pilots saw the aircraft crash.
The disappearance of the aircraft triggered a large search operation by ships and aircraft belonging to the Japanese self-defense forces. According to the U.S. Navy's Japan-based 7th Fleet, the destroyer Stethem and several P-8A Poseidon multimission aircraft also took part in the search. Some wreckage from the F-35 was subsequently sighted in the water, which confirmed the fate of the missing jet.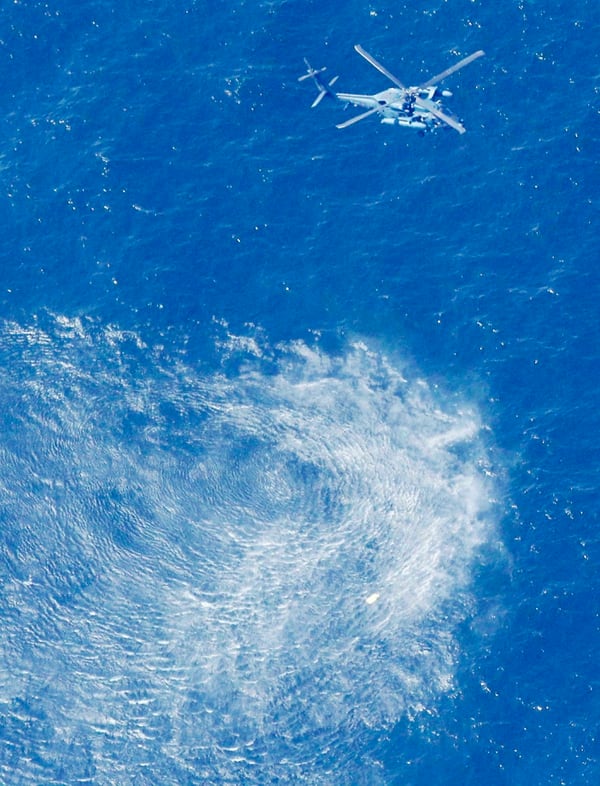 A Japan Air Self-Defense Force helicopter hovers around the sea area where a Japanese fighter jet is believed to have crashed. (Kyodo News via AP)
Iwaya also confirmed that there is no intention to revise Japan's procurement of more F-35s pending the results of an investigation into the crash, which is the second-ever involving an F-35. An F-35B belonging to the U.S. Marine Corps had crashed in South Carolina in September 2018, the cause of which is still under investigation.
Japan plans to acquire a total of 147 F-35s, split into 105 F-35A conventional-takeoff-and-landing variants and 42 F-35Bs, which are conducting short-takeoff-and-vertical-landing operations.
The minister was asked about the possibility of China or Russia attempting to salvage the crashed F-35 from the seafloor given the highly classified nature of the technology onboard the stealth jet. He said no unusual activity had been observed at the crash site, although Japanese forces are continuing to monitor the situation.