RENO, Nev. — He sipped coffee at nearly 700 miles per hour, 20,000 feet above the Earth, roaring toward the battle of Raqqa.
Navy Lt. Cmdr. Michael "M.O.B." Tremel had a hunch the day's mission would be different than the others he had flown into the gut of war-ravaged Syria, dropping bombs to protect friendly forces in the fight against the Islamic State.
But the Pennsylvania native carried no inkling that this operation on June 18, 2017, would secure his own place among naval aviation icons.
"Defending guys on the ground is what I've done my whole career," the F/A-18E Super Hornet pilot told Navy Times last week at the Tailhook Association's annual convention, where he received the Distinguished Flying Cross for becoming the first American pilot to shoot down an enemy plane since 1999.
Tremel didn't want to talk too much about those troops on the ground, but according to his medal citation they included an Air Force Joint Terminal Attack Controller, or JTAC, who was calling in strikes for Syrian rebels fighting Islamic State militants in their Raqqa stronghold.
The beauty of the day clashed not only with the fighting below but also the thorny international politics that animate what strategists contend is a proxy war in Syria.
These days, the complicated battles on the ground are matched by a jumble of jets in the sky.
"You have Russian aircraft, Turkish aircraft, Iraqis, the Syrian air force," Tremel said.
That's not want Tremel saw outside his cockpit in 2014, three years into the Syrian civil war, when he joined one of the first U.S. sorties into the divided country to bomb Islamic State positions.
By last summer, a slip up could cause an international incident.
The rules of engagement briefed to the "Golden Warriors" of Strike Fighter Squadron 87 stressed caution. Russian aviators appeared to reciprocate by flying "very professionally, and so did we," Tremel said.
Tremel and his wingman, Lt. Cmdr. Carl "JoJo" Krueger, began their day with a launch off the carrier George H.W. Bush in the eastern Mediterranean Sea.
They swung south of Cyprus and then jetted over Turkey toward Syria.
Once on scene, Tremel said they "kind of orbited overhead" to get a better sense of what was going on above and below them.
Above, a Russian Su-35 Flanker fighter lingered, demanding their attention.
Below, the JTAC had been aggressively calling in strikes and feeding them combat reports.
And across the border in Iraq, U.S. and Baghdad forces were wresting Mosul from Islamic State fighters.
"A couple guys who took off on an earlier wave from the boat had done a couple shows of force down low to try and stop (Syrian military forces) from employing weapons on our partners," Tremel said.
His radar soon picked up an unknown aircraft closing fast on the U.S.-allied Kurdish and Arab militias bannered as the Syrian Democratic Forces.
It was a Syrian Su-22 Fitter. Tremel said he tried to prod the pilot to move south and away from the friendly forces he was shepherding below.
Last year at a Tailhook panel, he told fellow Navy and Marine Corps aviators that he realized they would need to execute a "head butt." He flew close overhead to the Syrian jet and fired out flares.
"At any point in time, if this aircraft would head south and work its way out of the situation, it'd be fine with us," Tremel said. "We could go back to executing (close-air support)."
"He ended up rolling in, dropping ordnance, two bombs on those defended forces," Tremel said.
Tremel went for the Sidewinder missile.
"It was really crazy, swinging that master arm for the first time in combat with an air-to-air missile selected," he recalled.
"Real time, I thought I might have been too close," Tremel said. "I thought maybe I hit (the jet) but it didn't fuse in time."
So Tremel turned to the AIM-120, an advanced medium-range missile.
"That got the job done from about half a mile," he said.
It sliced into the Fitter's rump and pitched the jet right, then down.
Tremel had flown through a debris cloud after destroying a drone during air-to-air training as a junior officer, so he knew to veer left.
He watched the Syrian pilot eject.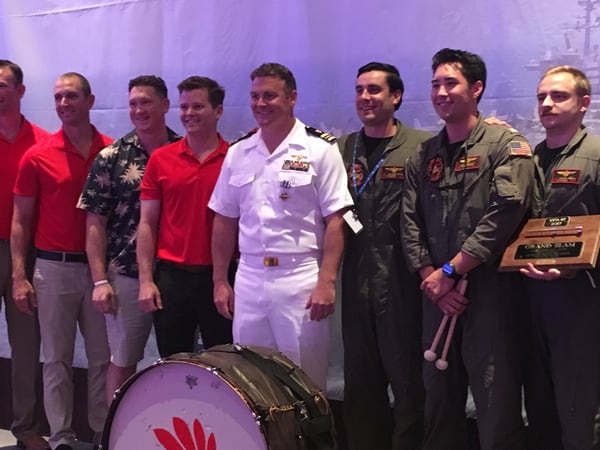 The entire skirmish, from detecting the Syrian aircraft to shooting it down, took about eight minutes, Tremel said.
Krueger received an Air Medal last week not only for helping Tremel but also for putting his jet between the American aircraft and other threats after the Syrian jet fell to the ground.
All of the Navy pilots were well briefed on both the dicey geopolitics and the rules of engagement that guided potential encounters with other aviators, Krueger said at last year's Tailhook.
"Looking at the wreckage down below us, it was a different feeling," Krueger recalled. "We had to make some decisions pretty quickly, and I thought the training and commanders' guidance that we got at that point was a big deal."
Last week, Tremel played down his actions and instead credited the sailors on the carrier who work hard, often in obscurity, to make sure even the rarely used missiles are ready to go when they are called upon.
"For the one day we need them," he said, "it works!"