The Joint Physiological Episodes Action Team, or J-PEAT, is intended to foster collaboration between the two services, which until now have been separately trying to find the causes of, and solutions to, so-called unexplained physiological events, the Air Force said in a release. Air Force and Navy officials are already working together, officials said, and will share ideas and best practices to collaborate.
These unexplained events can include hypoxia, which occurs when someone has too little oxygen in his bloodstream, or hypocapnia and hypercapnia, when the bloodstream has either too little or too much carbon dioxide. Pilots who suffer from these conditions report experiencing shortness of breath and disorientation, which can lead to confusion, faintness or even loss of consciousness.
The Air Force has also changed the name of its team looking into the problem from the Unexplained Physiological Events Integration Team to Air Force Physiological Episodes Action Team, or AF-PEAT.
"To better align with our national defense strategy, Secretary of the Air Force [Heather Wilson] tasked us to strengthen alliances and reform our business practices to improve readiness and deliver greater bang for the taxpayer buck," Brig. Gen. Edward Vaughan, head of AF-PEAT, said in the release. "Adopting a common team name, creating the Joint PEAT and better leveraging our joint data, research and resources will improve safety and combat readiness."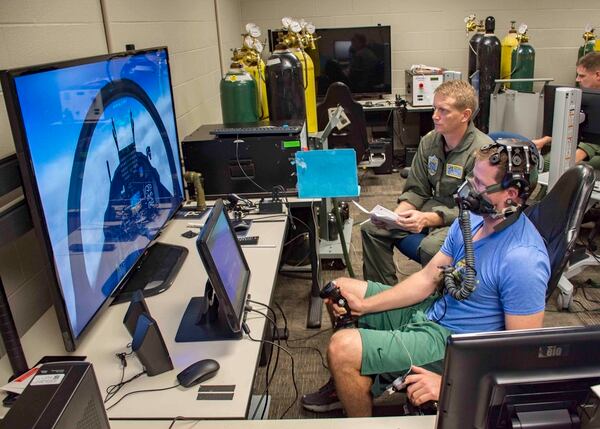 The Navy's already-existing website on physiological episodes will be turned into a joint site, and Air Force physiological episode information will be added to it. The website will also publish joint findings of the team.
"We want to gather and share as much information as possible to bring viable solutions to the table," said Rear Adm. Fredrick Luchtman, the Navy Physiological Episodes Action Team lead, in the release. "This joint effort will help us to minimize risk faster and smarter. We owe it to our aviators. This partnership will help us tackle the complexities of physiological episodes on a broader scale by eliminating redundant efforts and maximizing the application of resources. It's a win-win across the board."