The world's most expensive aircraft carrier welcomed its third skipper on Friday.
But Friday's change of command ceremony didn't take place on the deck of the $12.9 billion flattop. That's because the Gerald Ford is undergoing maintenance for the next year at Huntington Ingall's Newport News shipyard.
Instead the carrier's crew said farewell to Capt. Richard C. "Red Dog" McCormack from inside Norfolk's Vista Point Catering and Conference Center, where he relinquished command of the most technologically advanced flattop ever sailed by the Navy to Capt. John J. "Yank" Cummings.
Cummings will preside over a first-in-class carrier undergoing extensive work designed to fix the glitches that have dogged the carrier since it was commissioned on July 22, 2017 and began its shakedown cruise.
The list includes propulsion problems and software bugs but the Ford is slated to return to sea in late 2019 and the Pentagon believes it will deploy overseas three years after that.
The Navy's newest aircraft carrier, the first-in-class Gerald R. Ford, made an unexpected return to port May 22 during an underway testing period.
"The shakedown period was an opportunity for the Navy to run the ship through a rigorous set of operational tasks and assess her performance," McCormack told Navy Times in an interview. "We now enter a post-shakedown availability period to incorporate several design changes to correct performance deficiencies and complete the installation of other systems needed to ensure the ship, her embarked air wing and the strike group are ready."
McCormack's crew spent 81 days at sea testing the Ford, the newest class of American carriers in four decades. One of their most rewarding moments came when they discovered that the shipboard Electromagnetic Aircraft Launching System — called "EMALS" — and its companion Advanced Arresting Gear worked well.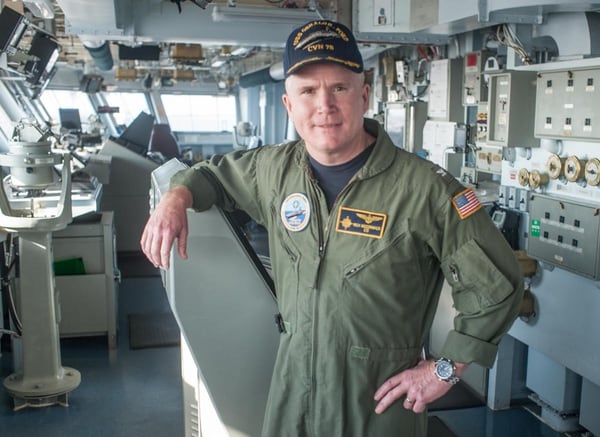 The electronic EMALs had drawn the ire of President Donald Trump, who decried the system as an example of military waste. He voiced his support for the old-fashioned steam-driven catapults.
Although commanders planned on only 400 launches and arrested aircraft landings during the Ford's maiden year of operations, EMALs worked so well that they pushed testing far higher. The crew tallied 747 launches and recoveries, seven of them made by McCormack himself, a career F/A-18 Hornet strike fighter pilot.
"It's shows your crew that you have confidence in them and in the equipment to have them shoot you off the bow and bring you back aboard from the stern," said McCormack, a California native who also served as a test pilot.
He has orders to become chief of staff for Naval Air Forces, Atlantic.
"Sure, there's a little disappointment about not going on deployment in this job because at heart, we're all operators and we want to be on the tip of the spear," McCormack said. "But there's also a lot of pride in having been part of an organization that built, tested, shook down and developed the first totally new class of aircraft carrier in the past 40 years, too."
Originally from Massachusetts, Cummings takes the helm of the Ford after leading the "Red Rippers" of Strike Fighter Squadron 11 and skippering the landing platform dock Anchorage. He also served as the executive officer of the aircraft carrier Nimitz.
Like McCormack, he realizes that he probably won't take the Ford out on an overseas tour. But he's fine with that.
"Going on cruise is easy — really the schedule is set for you the crew is trained and ready to go and you head out for nine months prepared for anything you might face — frankly that's easy," said Cummings, a career F-14A Tomcat and FA-18F Super Hornet fighter pilot.
"This is going to be a hard job, one of the hardest jobs I've ever had because of all these challenges, some of which we know and others we may have not even identified, yet,. I'll tell you more in a year, but we're we're going to to take that challenge and focus on putting the these systems through their paces and tighten all the the screws and get this ship ready to deploy."