China's newest aircraft carrier likely to have catapult launch system
Image on developer's social media site appears to show new technology installed on Type 002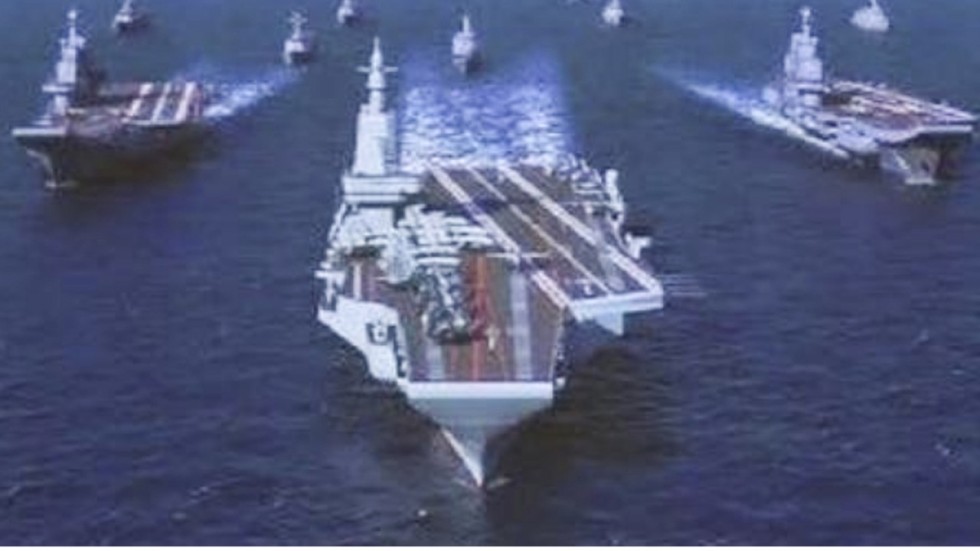 A photograph published on social media by one of the companies that develops China's aircraft carriers appears to suggest that the latest vessel will be equipped with a catapult launch system, unlike either of its predecessors.
China Shipbuilding Industry Corporation (CSIC) uploaded the picture on Wednesday, the state-backed tabloid Global Times reported, although it was taken down later the same day.
The image – which appeared to be an artist's impression rather than an actual photograph – showed China's Type 002 carrier – the country's third carrier and second to be domestically developed – with a flat flight deck installed with three catapult-like devices.
The image was apparently a snapshot of a large poster that hangs on a wall inside CSIC's boardroom.
In it, the new vessel is seen at sea, flanked by China's two other aircraft carriers – both of which have ski-jump decks – and a number of destroyers and other ships.

Beijing-based military commentator Zhou Chenming said that despite the odd manner in which the image was released, it was not unusual for such information to be disseminated subtly, and that the technology it seemed to be promoting was definitely on its way.
"From the information that is currently available, I would say a carrier with a catapult launch system is very much on the horizon," he said.
Satellite images released earlier showed sites in Wuhan, Shanghai and Liaoning where the new system might have been tested, while there had also been reports of J-15 fighter jets – as used on the Liaoning, China's first aircraft carrier – having been modified for catapult take-off, Zhou said.
Both the Liaoning, and the Type 001A – the country's first home-grown carrier, which is currently undergoing sea trials – have curved flight decks.
The Chinese navy has been working on catapult take-off technology, which enables faster operations and a longer range for jets, for some time.
"This revelation could mean the third carrier is progressing fast," naval expert Li Jie said.
It was also very likely the Type 002 carrier would use an electromagnetic catapult, as a team led by physicist Ma Weiming had made significant breakthroughs with such technology, he said.
"The progress of the new carrier and the catapult seem in synchronisation. It will take a few years for the ship to be built and the system to be installed and tested," he said.
A source close to the People's Liberation Army told the South China Morning Post late last year that the Central Military Commission was keen to use an electromagnetic aircraft launch system on the Type 002.
The system would mean less wear and tear on the aircraft and allow more planes to be launched in a shorter time than the ski-jump systems used on the Liaoning and Type 001A, this person said.
Back to Top