In a conference call with investors, Ingalls chief executive Mike Petters said the Kennedy, being built in Newport News Shipbuilding, was tracking to launch ahead of schedule.
"At Newport News, CVN 79 Kennedy is approximately 75 percent structurally complete and 43 percent complete overall," Petters said. "The team continues to produce results that are in line with our expectations and is pushing to accelerate launch by three months to the fourth quarter of 2019.
Ingalls responded to the U.S. Navy this week to a March request for proposals feeling out a two-carrier block buy for the future carriers Enterprise and the still-to-be-named CVN 81, Petters said.
Contracting for two carriers at once would help stabilize the workforce at Newport News, among other benefits that will save the Navy money, he said. 
"The two-ship purchase reduces the cost of aircraft carriers by stabilizing the Newport News workforce in the national supplier base, allowing the team to buy materials in quality and sequencing construction activities more efficiently," he said.
Ingalls also said the Navy should look at buying the carrier earlier than the normal five-year interval to save even more money. The Navy has previously said that a block buy and moving up construction could save about $2.5 billion overall.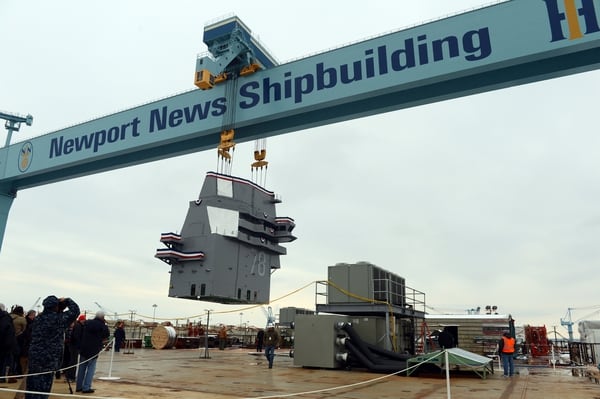 "Our view is that if you can get away from the five- or six-year centers that we've seen and you can get to something more like three or four, you certainly will get to a place where it will be more efficient," Petters said.
The House Armed Services Committee's Seapower and Projection Forces Subcommittee expressed support for the block buy and moving up to a three-year center on Enterprise and CVN 81 in its recent markup of the 2019 National Defense Authorization Act.
All told, Ingalls is bullish on shipbuilding, Petters said, pointing to a recent announcement that the company would be putting nearly $2 billion into its facilities to profit off a major planned expansion of the fleet.
"The fact that the government, that the Pentagon sent us a request for proposal on two carriers is the biggest signal that the Navy could have sent to the entire supply chain that we are serious about this ramp up in the size of the Navy," Petters said. "So let's take that signal and let's run with it, let's go invest in our facilities and invest in our workforce and get this done. So we're excited about that, and we are seeing that excitement now in our supply chain."