Navy Weighs Buying Two More Costly Carriers in One Big Contract
Huntington Ingalls asked to propose significant savings

Navy Ford-class program could see expansion to four ships
The U.S. Navy is exploring whether it can achieve significant savings in parts and labor by buying its next two aircraft carriers together instead of individually, the service's top weapons buyer said.
The Navy intends to deploy 12 aircraft carriers, up from the 11 today, as a key part of its planned expansion to 355 ships. In a request for proposals on Monday, the Navy asked shipbuilder Huntington Ingalls Industries Inc. "to further define the cost savings achievable" if it makes a block purchase of the third and fourth carriers in the new Ford class.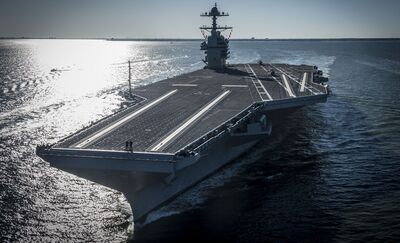 A two-ship commitment would provide a major boost in revenue for Huntington Ingalls and its subcontractors, including General Atomics, which makes the aircraft launch and recovery system.
The proposal is a vote of confidence in the carrier program despite its history so far of major cost increases and delays. The first carrier in the class, the USS Gerald R. Ford, has become the costliest warship ever — with a budget now capped by Congress at $12.9 billion — and it was delivered at least 32 months later than originally scheduled.
Huntington Ingalls also was falling short last year of a Navy goal to reduce the hours of labor on the second ship by 18 percent compared with the first.
Must Show Savings
For the Navy to commit to two carriers at once, the contractors working on it must demonstrate significant savings, such as in hours of labor or reductions in costs from suppliers, James Geurts, the Navy's top weapons buyer told reporters. "Is there a more affordable way to buy those two?" he asked.
Mike Petters, chief executive officer of Newport News, Virginia-based Huntington Ingalls, said in an email that "we believe the most effective way to reduce cost of aircraft carriers is to take a multi-ship purchase approach and build them every three to four years. Buying two ships at once stabilizes the Newport News Shipbuilding workforce and their national supplier base, allows us to buy materials in quantity, and phase work more efficiently."
Members of Congress have backed the administration's move toward maintaining a 12-carrier fleet, as new ships are added and older ones are retired, but details about timing of funding, construction and delivery have yet to be worked out.
More than 100 lawmakers — led by the delegation from Virginia, where the carriers are built — wrote Defense Secretary Jim Mattis in December urging a dual-buy procurement.
The Navy's fiscal year 2019 budget includes a request to fund the third Ford-class carrier, the USS Eisenhower, and plans fiscal 2023 as the first year of full funding for what would be the fourth, a ship still to be named that would replace the USS Carl Vinson when it's retired. Congress must approve the request.
Back to Top