USS George Washington Begins Midlife Refueling, Overhaul With Benefit of Lessons From 5 Previous Aircraft Carriers
By: Megan Eckstein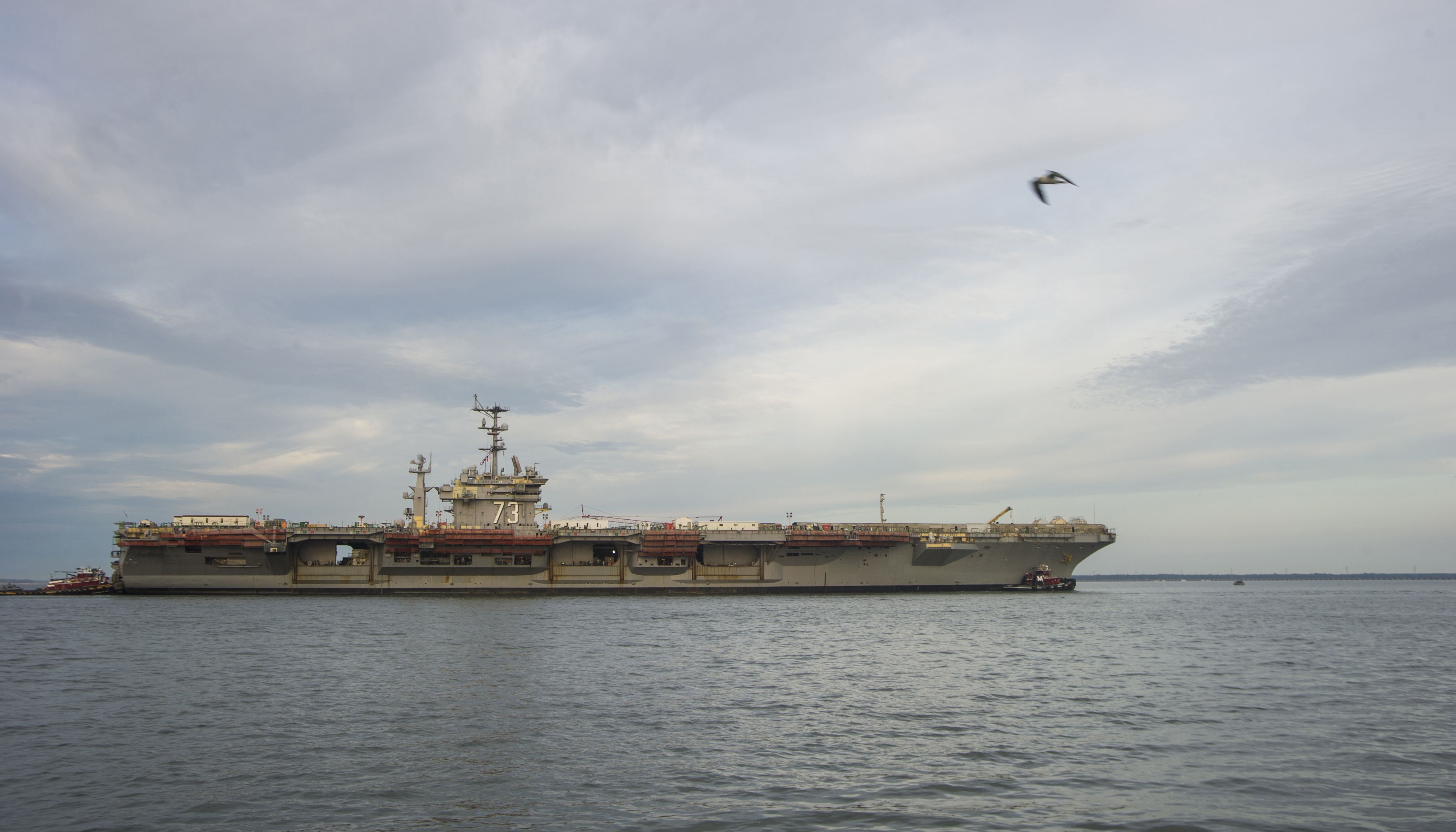 Aircraft carrier USS George Washington (CVN-73) began a 48-month Refueling and Complex Overhaul at Newport News Shipbuilding earlier this month after serving for seven years as the forward-deployed carrier in Japan, creating a somewhat unique work package for the Navy's sixth-ever RCOH.
Chris Miner, vice president of In-Service Aircraft Carrier Programs, told USNI News that George Washington's operations out of Yokosuka, Japan, from 2008 to 2015 both simplifies and complicates the work package for the mid-life maintenance, modernization and refueling event.
While serving as the Forward Deployed Naval Force (FDNF) carrier, George Washington would conduct a couple shorter deployments each year and then go into a short annual maintenance availability, compared to the rest of the carrier fleet that goes through a three-year cycle of a major maintenance availability, training, and a six- or seven-month deployment. That FDNF carrier, then, gets more frequent routine maintenance on hull, mechanical and electrical systems, but the shipyard in Japan cannot conduct all the work on the nuclear propulsion system that a yard in the United States can.
"Because she's on a difference maintenance cycle … there's two aspects to that – one, in some cases because of that different maintenance frequency, there's some areas we expect we'll see less growth work; in other words, the ship will be in better condition. Most of that would be outside the propulsion plant," Miner said.
"And then in other cases there's work that it's not really suited to be performed while it's in Japan, so we'll do that work during this availability. So again, I really can't go into the details of that aspect of the work, it's just that that work is more suited for us to do here in Newport News versus the situation they had in Japan."
Due to the additional propulsion plant work required during this RCOH, Newport News Shipbuilding began an "early smart start" phase in January, consisting of about 500,000 man hours of work at Naval Station Norfolk to begin prepping the ship for RCOH and tearing out furniture, equipment and ship systems to be refurbished, replaced or simply stored in a warehouse until the ship returns to the fleet. For the last carrier, USS Abraham Lincoln (CVN-72), that smart start period lasted only four months instead of the seven months for George Washington.
Miner said Newport News Shipbuilding had a "robust" program to capture lessons learned from each RCOH and was implementing several changes with GW that would save time and money.
"On 72 we discovered the catapult trough walls – we normally overhaul the entire catapult system – the catapult trough walls had more deterioration than we had seen in the past," Miner said, noting that the Newport News Shipbuilding team didn't make that discovery until the RCOH had already begun.
"So there's a lesson learned. That wasn't part of the plan for 72, that was a discovery item that we had to react to. For 73, we got in early, recognized it had the same issues, and from a lessons learned perspective we could get ahead of that, plan for it, have the new steel already being made in our shops. And as part of that we basically take the catapults while (the aircraft carrier) was still in Norfolk for the early smart start period, we take them down, pull all the cylinders out, send them off to get refurbished, and then get all the insulation off the trough walls. We actually blasted the trough walls so we could see how bad the damage was and basically get ahead of that."
Similarly, on Lincoln Newport News planned to test the ship's rudders as a precaution but assumed they would be fine.
"What happened was, when we did the test it failed. That required us to take on emergent work, which required pulling out rudders and reworking them, which is fairly significant work to do that," Miner said.
"So that was emergent work that caused some churn in our plan on 72. So what we've done on 73, instead of just expecting them to be okay, we actually planned to rework them if necessary, if the test fails, and have the resources already identified that would do the work, the material that's required to support that work … and to include that work in our schedule so it won't cause as much churn to the overall schedule if in fact that has to be done. If it doesn't have to be done, it's easier for us to back that out, and it actually provides us an opportunity to do better on schedule rather than it causing problems."
Newport News Shipbuilding is also applying new technologies to make the RCOH planning and execution more efficient.
Miner said the company used laser scanning technology for planning the CVN-73 RCOH and is already using it for CVN-74.
"Nimitz (class of aircraft carrier) was designed on paper, so we've done a significant amount of scanning. So a ship check: we used to send hundreds of people to go manually track systems, do drawings and everything. 73 – and it was a forward deployed carrier, it was in Yokosuka – so think about the cost of sending hundreds of people to Yokosuka, Japan, to manually ship check all these systems," Miner said.
"So on 73 we used the laser scanning technology, sent a significantly smaller team, were able to use the scanners to scan systems and bring those back and use them to build our work packages. And between just the cost of scanning, the people we didn't need, and the travel costs, we saved on the order of $2 million, a couple million dollars, just in the ship checking cost."
Miner said other changes for George Washington include new manufacturing processes, such as a change that will allow the new radar mast to be constructed in a single piece instead of in two parts, and allow that mast to be laid on its side to be outfitted with cables and insulation and paint, rather than installed in two pieces and then outfitted on the ship. Additionally, the blocking on the dry dock was re-engineered so the carrier will actually be held six feet up in the air instead of just five feet from the bottom of the dry dock, allowing more workers to walk underneath comfortably.
"Now you can walk, someone my height can walk under the ship without bending over – that means the workers that are down there are in a more comfortable position, it gives us more room to hang better lighting to make it a better environment for our folks to work, gives us room to run cables and other services. … It's just really opened up a whole lot of things we can do to make it a better work environment for our team."
Newport News Shipbuilding and the Navy are still finalizing the RCOH execution contract, but Miner said they have a handshake agreement now and are just going through final formalities. The contract should be signed in the coming weeks, and he said work at the shipyard is taking place today under the planning contract. The carrier entered Dry Dock 11 on Aug. 4, and the team is still in the rip-out phase. Eventually the shipbuilder will begin cutting holes into the hull to access tanks and other spaces that need to be blasted and coated, and cutting one large hole down the center of the ship, from top to bottom, to give the team access to the propulsion plant. In total, Miner said, about 35 percent of all maintenance and modernization work the carrier will ever get in its 50-year service life will take place during this four-year RCOH.
Back to Top