The aircraft carrier George H.W. Bush and her embarked Air Wing Eight as well as the guided-missile destroyer Truxtun returned to Norfolk today after what is being called a record setting, 212-day deployment to the Mediterranean and Persian Gulf.
Two other cruisers that deployed with the battle group, the Philippine Sea and Hue City, returned to their Mayport, Fla. homeport on Aug. 19 and 21, respectively.
"Absolute historic deployment, when it comes down to ordnance and the numbers of sorties and flights we did, over Iraq, as well as over Syria," said Rear Adm. Kenneth Whitesell, who commands Carrier Strike Group Two. 
"We dropped almost 1.8 million pounds of ordnance — a little over 1,700 pieces of ordnance…was delivered with precision."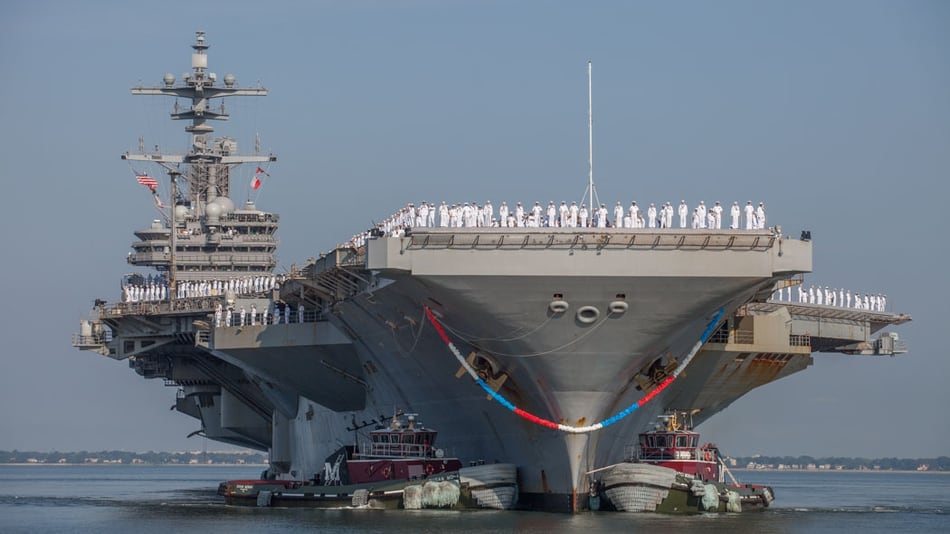 Norfolk, Va. (Aug. 21, 2017) The aircraft carrier George H.W. Bush is guided by tug boats alongside Pier 14 at Naval Station, Norfolk, Va. after returning from 212-day deployment, which saw them spend 99 day "on the line" in the fight against ISIS. Photo by Mark D. Faram/staff
Those numbers, Fleet Forces Command said, were the most ordnance dropped by an aircraft carrier and air wing team since Operation Desert Storm in 1991.
"Remember, when we left, Secretary of Defense Mattis, he said our mission as a military was clear, the annihilation of ISIS," Whitesell said. "And that's what we did — we worked through Mosul as well as Raqqa and worked our way down the middle Euphrates River valley."
The significance of those strikes weren't lost on the crew. Whitesell said the whole crew experienced what he described as "incredible job satisfaction." He said that was probably most evident among the squadron ordnance sailors who loaded up the aircraft and watched them return empty, day after day.
Another historic event for the Bush and its air wing was the first air-to-air kill of an enemy aircraft in nearly 20 years. Lt. Cmdr. Michael "MOB" Tremel of Strike Fighter Squadron 87, flying an F/A-18E Super Hornet on June 9, shot down shot down a Syrian Su-22 "Fitter" aircraft.
"MOB's name is in history, now," Whitesell said. "It's been many, many years since we shot an aircraft down.
Whitesell described the encounter to reporters moments after the ship tied up.
"We knew that SU-22 was coming, we had it on radar and had situational awareness," he said. "We warned it over the radio that it was getting close to friendly forces. We warned it by flying in front of it, dropping flares…and that aircraft continued in it's dive and release ordnance. We saw it commit an offensive act against coalition forces on the ground and that's when we shot it down."
Bush departed Norfolk Jan. 21, exactly seven month ago on this regularly secheduled deployment, the second Norfolk carrier to deploy under the new Optimized Fleet Response plan.
Now back in the states, their job isn't over, yet. The Bush's crew will now have a month of standout before taking up the role of the surge carrier in the Optimized Fleet Response Plan. Under this plan the ship is kept at a high state of readiness by operating regularly for the next six-months out of Norfolk, and could deploy quickly if needed elsewhere.
"We'll take about a month or so to allow the crew some leave and to make some minor repairs to the ship," said Capt. Will Pennington, Bush's commanding officer. "So if the nation needs us, we'll be ready."
When asked about the visible patches of rust the ship was sporting as she pulled into Norfolk's Pier 14, Pennington looked a little sheepish.
"It's gets tough because you can't paint the ship while you are underway, so it's always a little bittersweet to see it when you get off," he said. "But if you come back in 10-days, it'll look brand new."