Navy delays recycling of decommissioned USS Enterprise, which will be put in storage
By Courtney Mabeus
The Virginian-Pilot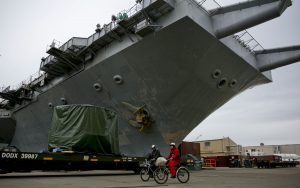 The Navy says it needs more information before it can decide how to dispose of the world's first nuclear-powered aircraft carrier.
As a result, it has canceled a 2016 request for proposals for "non-nuclear" portions of the ex-USS Enterprise, according to a news release Monday from Naval Sea Systems Command.
The Enterprise, also known as The Big "E," operated for more than five decades before being decommissioned during a ceremony at Newport News Shipbuilding earlier this month.
The Navy on Monday said it seeks further information on "more technically executable, environmentally responsible" approaches to disposing of the aircraft carrier, which will be put in storage after its inactivation is completed in August.
One option under consideration would entail having a private shipyard dispose of the ship's non-nuclear portions and dismantle its eight defueled reactor plants.
A second option would involve having the Puget Sound Naval Shipyard in Bremerton, Wash., handle the reactors. A third includes storing the Enterprise and deferring disposal.
The Navy originally planned to have the Enterprise towed to the Puget Sound shipyard, where it would be dismantled, but decided that plan would have too big an impact on the yard's maintenance workload.
The Navy said it will prepare environmental impact statements for each of the three options and solicit public comment.
Back to Top