Navy to give final farewell to USS Enterprise, world's 1st nuclear-powered carrier, next week
By Brock Vergakis
The Virginian-Pilot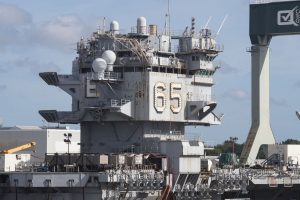 NEWPORT NEWS
The world's first nuclear-powered aircraft carrier will be decommissioned next week in what will be the final farewell to a warship that has played a role in major world events from the 1962 Cuban missile crisis to the recent wars in Iraq and Afghanistan.
The USS Enterprise has spent the past several years being defueled and dismantled at Newport News Shipbuilding, the shipyard where it was built and refueled.
The "Big E," as it was affectionately called by its crew, was inactivated from service in 2012 in front of about 12,000 people in a ceremony at Norfolk Naval Station after completing its 25th deployment.
The decommissioning ceremony is a long-honored naval tradition that retires a ship from service through a variety of ceremonial services, including lowering the ship's commissioning pennant.
The Feb. 3 ceremony is closed to the public, but the Navy said Wednesday the entire event will be posted on its Facebook page. About 100 people are expected to attend at Newport News Shipbuilding.
The ship joined the fleet in 1961 and has an active veterans' group dedicated to preserving its history, which includes launching the first aircraft strikes in Afghanistan following the Sept. 11, 2001, terrorism attacks on the U.S.
The carrier was the eighth Navy ship to bear the name Enterprise, which dates to the Revolutionary War. The Navy has said a future Gerald R. Ford-class aircraft carrier also will be called Enterprise.
Sailors from the carrier's final crew built a time capsule from parts of the ship and allowed former sailors to fill it with notes and mementos. The time capsule will be opened by the commanding officer of the next Enterprise.
Back to Top