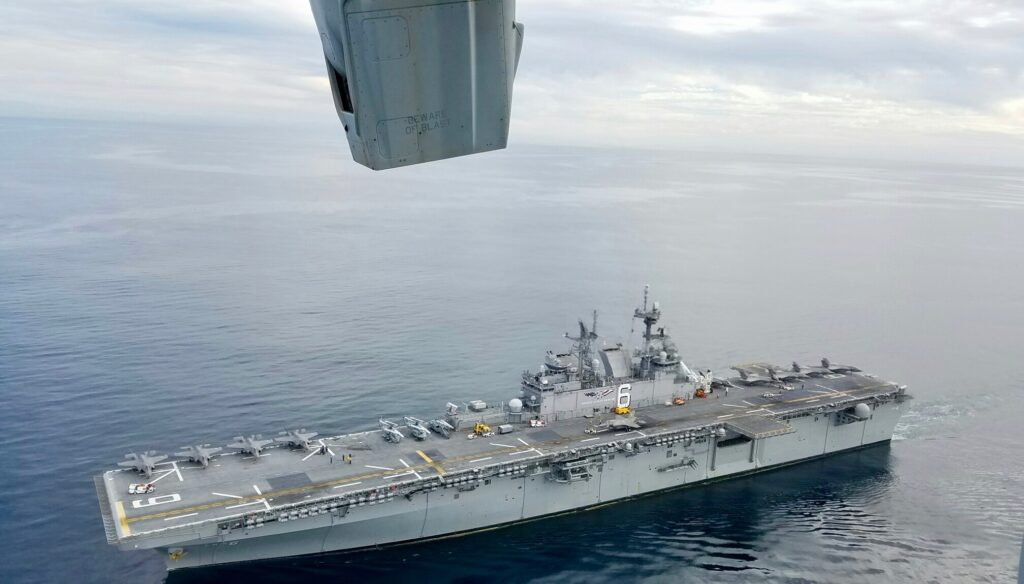 ABOARD THE USS AMERICA: Somewhere near San Diego on the Pacific Ocean, the Marines have been putting F-35Bs and their pilots through a series of qualifications and tests with an eye to better understanding just how the small-deck carriers, the F-35s, V-22s and combat-ready Marines can best function together.
With a careful eye on both China and Russia, the Marines spent today (Sunday) executing what they are calling the Lightning Carrier Proof of Concept Demo.
I'll be doing several more stories on this, but thought readers would find this summary of the last month of flights useful. I was aboard the America on Nov. 20.
In an email to reporters, Capt. Sarah Burns said 12 F-35Bs from Marine Fighter Attack Squadron 211 and Marine Operational Test and Evaluation Squadron One (VMX-1), two MV-22B Ospreys, one UH-1Y Venom and one AH-1Z Viper took part. The Marines had never flown more than six F-35Bs from a ship before.
On top of that, 19 Marine pilots carrier qualified in the past three weeks. For perspective, eight Marine F-35B pilots carrier qualified over the last four years, Burns says. Before today's proof of concept, seven F-35Bs from Air Test and Evaluation Squadron 23 (VX-23) and VMX-1 and personnel from 12 agencies did this:
First integration of ALIS SOU version 2 aboard a ship

Removed and replaced the entire engine, drive shaft and lift fan of an F-35B over 12 days, including during heavy seas. The plane flew while we were there.
First live ordnance operations aboard a ship
First F-35B integration with AEGIS
First integration with MV-22B Ospreys (2), a UH-1Y Venom and an AH-1Z Viper aboard a ship
Block 3F software was flown aboard ship for the first time at sea.
The first Royal Navy pilot was carrier qualified