Russian Jet Flies Within 10 Feet of US Spy Plane: Defense Official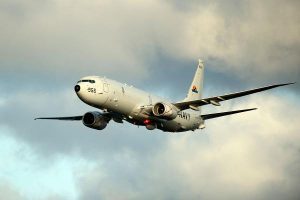 A Russian jet zoomed within just 10 feet of a U.S. Navy spy plane over the Black Sea on Wednesday, the latest in a string of daring maneuvers involving Russian aircraft and the U.S. military, a defense official with knowledge of the incident told Fox News.
The Russian Su-27 flew dangerously close to a U.S. Navy P-8 Poseidon reconnaissance aircraft used primarily for anti-submarine warfare while on routine patrol, a senior defense official said.
Fox News is told a classified photo of the close call exists, but officials have not decided whether to release it.
The incident occurred Wednesday, but the senior official did not give a specific time. Two officials speaking to Reuters described the maneuver as "unsafe and unprofessional."
The Black Sea is about 500 miles south of Moscow.
In April, Russian jets buzzed a U.S. Navy destroyer in the Baltic Sea, coming within 30 feet of the Navy ship.
This latest provocation comes as Secretary of State John Kerry is negotiating a cease-fire with Russia in Syria. Earlier today, Secretary of Defense Ash Carter said Russia was "trying to play by their own rules" and making the situation in Syria "more violent."
Carter added, "Russia's actions in recent years – with its violations of Ukrainian and Georgian territorial integrity, its unprofessional behavior in the air, in space, and in cyber-space, as well as its nuclear saber-rattling – all have demonstrated that Russia has clear ambition to erode the principled international order."
Carter was speaking at Oxford University in the United Kingdom.
Fox News' Lucas Tomlinson contributed to this report.
Back to Top