Norfolk military liaison dismissed, escorted out of city offices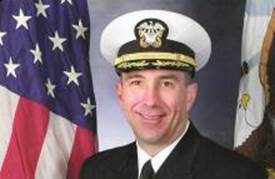 Norfolk's director of veteran services has parted ways with the city.
In a brief email sent out late last Monday, a representative for the city said officials had cut ties with Capt. John Andrews, Norfolk's military liaison for the past 2-1/2 years.
The email said staff wished Andrews well in his "future endeavors," but remained mum on the reasons behind the city's decision.
"It was definitely not a decision on my part," Andrews said a day later.
Andrews, one of the highest-paid city employees, tasked with growing the city's active-duty and veteran military presence, said he was blindsided by Norfolk's decision to terminate his position.
"This just hit me out of the blue," Andrews said. "They shut me down. 10:30 in the morning, I was escorted out of the building."
Andrews would not divulge the details behind his dismissal – not before speaking with an attorney, he said.
"I have just come at odds with the people I work for and they have me at a distinct disadvantage," Andrews said. "But, there is a definite reason."
The retired Navy officer joined the city in 2012 as military liaison. He was assigned special assistant to Norfolk City Manager Marcus Jones and worked for more than two years to grow the city's veteran workforce.
Norfolk officials routinely praised Andrews' work.
Under Andrews' direction, the city hired more than 200 veterans and maintained a 96 percent retention rate for those veterans hired. For three years with Andrews at the helm, Norfolk was awarded the top certification from the Virginia Values Veterans program, a statewide veteran employment initiative.
In an interview four weeks ago, city spokeswoman Lori Crouch, who Andrews called a friend, touted the captain's service both in and out of uniform.
"John has done a tremendous job," Crouch said.
Four weeks later, Crouch said city officials made the decision to dismiss Andrews the day of his departure. Up until that point, there had been no apparent signs Andrews would be leaving the city's employment.
In the interview last month, Andrews said he was proud of his work with Norfolk and city staff. He even went so far as to touch on his own job security, thanking the city for keeping him on when other cities were cutting similar positions during tight economic times.
When Andrews came onboard in 2012, much was made of his nearly $100,000-a-year salary.
That dollar figure made Andrews one of the city's highest-paid employees, and the public outcry landed him on the front page of The Virginian-Pilot.
The city defended Andrews' position and he stayed on. Those who hold the same positions in other cities weren't as lucky.
A year ago, when the city of Portsmouth wanted to pay a consultant to help grow its Coast Guard presence, the city agreed to pay retired Rear Adm. Wayne E. Justice $130 an hour. But public backlash proved too much and Justice resigned.
Virginia Beach, too, had a military liaison on staff, but the job was cut from the budget in the midst of the recession. Sali Gear, a retired Navy pilot, was paid $2,500 a month, according to city officials.
Norfolk city officials as late as Tuesday last week said they had no intention of releasing the reason for Andrews' departure.
"He's just no longer with the city and that's all we're saying right now," Crouch said.
"I have been trying to do what I believe is right," Andrews said. "I just don't want to be made the bad guy here."
Crouch said Deputy City Manager Peter Chapman, who was hired last month, will take over veteran workforce development in Andrews' wake.
Assistant to the city manager Joe Howell will assume all other duties assigned to Andrews.
Back to Top