China Stealth Jet Maker Walks Back Boast It Could 'Take Out' F-35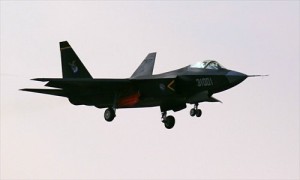 J-31 Stealth Fighter
In early November, as President Xi Jinping hosted U.S. President Barack Obama in Beijing ahead of unveiling a cavalcade of bilateral cooperation deals, Mr. Xi's military officials in the south of the country took the occasion to unveil China's new stealth fighter jet, the J-31. The message, analysts say, was unmistakable: watch this, Yanks.
But just how good is it?
Perhaps, nationalist tabloid Global Times now says, not as much as its makers say.
In an interview over the weekend, the stealth jet's manufacturer, Aviation Industry Corporation of China CEO Lin Zuoming, told state media that "the J-31 can definitely take out the (U.S. Lockheed Martin LMT -1.47% fighter jet) F-35 when it takes to the skies."
Two days later, the Global Times cited an anonymous source with AVIC in saying that there was "some kind of misunderstanding" and that Mr. Lin was merely stating the goal of the J-31 program.
For good measure, the Global Times also threw in an observation from an Aerospace Knowledge magazine editor saying "it is unrealistic for the (J-31 and its sister Chinese stealth fighter J-20) to surpass their U.S. counterparts in a short period of time."
AVIC could not immediately be reached for comment.
Analysts have said the J-31 is strikingly similar to the F-35. There are allegations that the Chinese product was developed using information stolen from Lockheed Martin and six sub-contractors. China's defense ministry hasn't responded to the claims.
It isn't the first time a Chinese stealth jet program has met been accused of copying specs from a U.S. competitor. Analysts have said the J-20 looks an awful lot like the U.S. F-22 Raptor jet and suggested China likely learned some of its stealth technology from pieces its agents obtained of the wreckage of a U.S. F-117 shot down by a Serbian antiaircraft missile during the 1999 Kosovo war. Chinese officials have denied these claims.
Hacking claims aside, there's really only one way to find out the head-to-head performance of the planes. Unfortunately, in this case, the proof in the pudding may not be all that appetizing for anyone interested in peace in the Asia-Pacific theater.
Back to Top