Carrier's departure delayed by peregrine falcons
By Jennifer McDermott
The Associated Press
©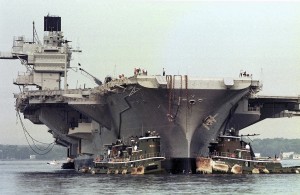 The Saratoga is guided into a pier at Coddington Cove in Middletown, R.I., on Aug. 7, 1998, by tugs after a five-day journey from the Philadelphia Naval Yard. The aircraft carrier was decommissioned in 1994 after 42 years of service. (Matt York | The Associated Press)
PROVIDENCE, R.I.
The Navy is ready to say goodbye to the Saratoga, but a family of peregrine falcons is not.
The falcons are nesting on board the decommissioned aircraft carrier in Newport, Rhode Island. The Navy has delayed the Saratoga's final trip to Texas, where it will be dismantled, until the fledglings are ready to leave.
"We wanted to do the right thing by these birds," said Lisa Rama, spokeswoman for Naval Station Newport.
Naval Station Newport contacted the U.S. Fish and Wildlife Service after the nest was discovered in the spring. Their experts said the falcons should be done rearing their offspring by mid-August, and recommended waiting until then to move the ship.
The peregrine falcon is a protected species under the federal Migratory Bird Treaty Act. Moving the ship while the falcons are nesting could violate the act.
While there was no set date to move the Saratoga this summer, it likely could have left by now, Rama said. The contract to scrap it was awarded in May to a Texas company, ESCO Marine.
The Saratoga is now scheduled to depart in mid-to-late August.
For years, peregrine falcons and other birds have made their homes in Newport on both the Saratoga and another decommissioned aircraft carrier, the Forrestal, which left Rhode Island in 2010 to be scrapped. There are many ledges and out-of-the-way places on the behemoth ships for their nests, and high perches to scout out prey. Few people go aboard.
The family of falcons is under an elevator that used to take planes to the flight deck.
Peregrine falcons were once an endangered species, but the population rebounded after the pesticide DDT, which thinned the birds' eggshells, was banned in 1973, according to the fish and wildlife service.
There are currently about 10 nesting pairs in Rhode Island, the state Department of Environmental Management said.
The Saratoga was launched in 1955 and decommissioned in 1994. A foundation was formed to relocate the ship to Quonset Point, Rhode Island, so it could serve as a floating museum. The Navy took the Saratoga off the donation list after the USS John F. Kennedy carrier became available for a museum and the foundation switched its preservation efforts.
Back to Top