Carrier Constellation heading for scrap yard
July 22, 2014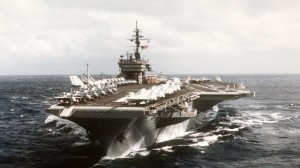 More than 100,000 men and women served on Constellation, one of the last conventionally powered carriers.
US Navy
The aircraft carrier Constellation, which spent most of its nearly 42 years of service operating out of San Diego Bay, will be scrapped in Texas following a historic tow from its resting place in the Pacific Northwest.
The Navy said Monday it is turning the decommissioned flattop over to International Shipbreaking, Ltd. (ISL), which will use a single ocean-going tugboat to pull "Connie" almost 17,000 miles, from Bremerton, Washington, to its yard in Brownsville, Texas. The 1,088-foot carrier will be towed around the tip of South America because it is too big to slip through the Panama Canal.
The trip will take about five months to complete and is among the largest towing efforts ever undertaken with an American warship.
"We'll have to stop 7 to 9 times along the way to refuel (the tug)," said Robert Berry, carrier program manager at ISL.
The Navy is in the process of releasing some of its largest decommissioned ships for scrap to save on the cost of maintaining the vessels. Constellation was decommissioned at North Island in 2003 and towed to Bremerton, where it has been docked at site for inactive ships. It is located next to the decommissioned carriers Kitty Hawk and Ranger, both of which operated out of San Diego. The Navy also is likely to scrap those vessels.
Earlier this year, a different company towed the decommissioned carrier Forrestal from Philadelphia to Brownsville for scrapping. Forrestal is about 98 feet shorter than Constellation.
Berry said it will take about two years to dismantle Constellation, a project that will generate about 400 jobs in Brownsville. The scrap metal is used for such things as building new cars. ISL is paying an undisclosed price to move Constellation in return for the right to sell scrap from the ship.
Constellation went on 21 deployments throughout the world, but is best known for its service in the Vietnam War.
"Homeported here in San Diego for four decades, perhaps no ship has contributed more to the San Diego economy and to the civilian-military community fabric more than the USS Constellation," said Scott McGaugh, marketing director of the USS Midway Museum. "It came to embody the entire Vietnam Conflict, much of the Cold War, and the earliest days of the Global War on Terrorism, always returning to San Diego where families waited to welcome their sailors and officers home."
Back to Top