Ex-supercarrier Constellation headed to scrapyard
By Meghann Myers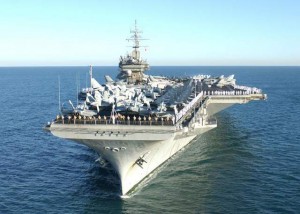 Carrier Constellation, seen here in 2003 on its last deployment, will be towed from its berth at Naval Base Kitsap, Washington, around South America to a Texas scrap yard. (PH2(AW) Timothy Smith / Navy)
The retired aircraft carrier Constellation will take its final cruise this summer, from the Pacific Northwest to Texas for dismantling, the Navy announced Friday.
The Navy awarded a $3 million contract to International Shipbreaking, according to a news release, for the cost of towing the ship that served the Navy for four decades.
The Constellation is the third of the Navy's conventionally powered aircraft carriers to head for the scrapyard this year. The Forrestal and Saratoga also were sold to shipbreaking companies based in Brownsville, Texas. However, those contracts totaled 1 cent each.
"The $3 million will help cover the cost of towing Constellation, since the ship has to go around South America," Naval Sea Systems Command spokesman Chris Johnson told Navy Times. "The other two ships have a relatively straight shot down the East Coast."
Constellation is expected to make the trip from its home at Naval Base Kitsap, Washington, to the Gulf of Mexico in the next few months, the release said.
"Connie," as her crew called her, was the second in the Kitty Hawk class of carriers, christened in October 1960. A fire in December of that year killed 50 workers and caused $75 million in damages, delaying the carrier's commissioning until October 1961, according to Naval History and Heritage Command.
The Constellation measured 1,047 feet long by 248 feet wide and could travel at more than 33 knots.
Through nearly 42 years of service, Connie deployed to support combat missions in conflicts from Vietnam to Afghanistan before its decommissioning in August 2003 at Naval Station North Island, California.
Back to Top