T-34C crashes off Gulf of Mexico; no injuries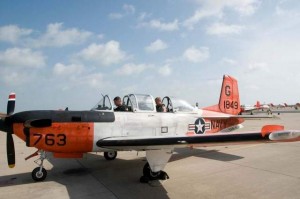 A T-34 Turbomentor similar to the one pictured above crashed into the Gulf of Mexico on Thursday morning. (Richard Stewart/Navy)
Two pilots aboard a training aircraft were uninjured Thursday morning after their plane crashed over the Gulf of Mexico, Naval Air Training Command said in a news release.
The aviators, assigned to Training Squadron 28 at Naval Station Corpus Christi, Texas, escaped the T-34 Turbomentor aircraft and were recovered by Coast Guard search and rescu
The pilots were flying a routine training mission over the inter-coastal waterway when they crashed around 10:20 a.m., central time. They are currently under evaluation at a local hospital.
The Navy will conduct an investigation into the cause of the crash, the release said.
The VT-28 Rangers conduct primary flight training for new aviators on the single-prop T-34C trainer.
e personnel, the release said.
Back to Top