F-35 forcing Navy to develop new hearing protection for flight deck crews
By Meghann Myers
Staff writer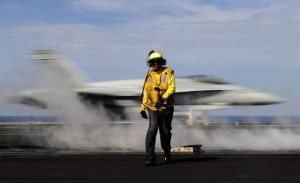 The Navy is rolling out more robust hearing protection for flight deck sailors. (MCSN Nicolas C. Lopez / Navy)
The Navy is developing new hearing protection for flight deck crews to block out the roar of new and noisy jets.
The F-35 Lightning II, which clocks in at a thundering 152 decibels, is forcing the service to come up with better hearing protection for sailors.
Enter the new headset: they offer 14 decibels more protection and are worn over earplugs, like the legacy "Mickey Mouse" headphones that the fleet has used for six decades.
"The Navy flight deck is one of the noisiest places in the military," said Dan Ratcliff, program manager of aircrew systems for Naval Air Systems Command, in an April 8 briefing at the Sea-Air-Space expo outside Washington, D.C.
The new headset, known as the DC2, is a 14-decibel upgrade already in use with the 1st, 2nd and 3rd Marine Aircraft Wings.
Some sailors may also get to wear new foam ear plugs that have an embedded speaker, allowing yellowshirts to listen to the plane and the ship while on deck.
Ratcliff said the ear plugs fit most sailors, but if they don't, there's an option to have the spearkers embedded into custom-made ear plugs.
So far the aircraft carrier Nimitz and its air wing are using the Argonaut system, which got the go-ahead for full production last November.
NAVAIR isn't done trying to protect sailors' hearing. Officials are now in the early stages of a triple hearing protection system that works at up to 39 decibels, Ratcliff said.
Back to Top