Last Ride of the FORRESTAL
Christopher P. Cavas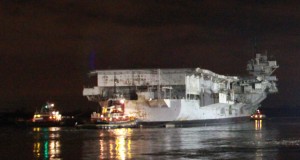 In the frigid pre-dawn darkness of Feb. 4, tugs surrounded the venerable aircraft carrier USS Forrestal (AVT 59, ex-CV 59), long lying dormant at a pier in the old Philadelphia Navy Yard. Huge hawsers were rigged, and before sunrise, the huge Foss Marine tug Lauren Ross, assisted by four smaller tugs, began to ease the ship off the pier, away from another decommissioned flattop, the John F. Kennedy.
The tow squared up in the Delaware River, and began a slow procession back to the sea. Numerous spectators – many were allowed into the former shipyard to watch the event – dotted the shores of the Delaware, eager to catch a last glimpse of America's first super carrier.
The ship is bound for Brownsville, Texas, the usual death spot for Navy ships. Several thriving scrapyards line the Brownsville Ship Channel, and one of them, All-Star Metals Inc., was awarded a one-cent US Navy contract in October to break up the Forrestal. She will become the largest warship ever scrapped, anywhere, breaking the record of the Coral Sea, broken up in Baltimore, Md., in the early 1990s.
Forrestal was the first all-new aircraft carrier design built after World War II, and incorporated many new features for the jet age – among the most striking was the angled deck, a new configuration that allowed aircraft to land and take off at the same time without interfering with each other.
Built at Newport News Shipbuilding, the ship was commissioned in October 1955, accompanied by widespread publicity as the most powerful aircraft carrier ever built. In many ways, all subsequent US carriers are derivatives of the Forrestal design, even while incorporating innumerable improvements.
After a stellar career as an attack aircraft carrier, the ship was redesignated AVT 59 in early 1992, part of a move to convert her to become an auxiliary ship training aircraft carrier and allow women — barred at the time from serving aboard combat ships — to join her crew. In the course of the overhaul, however, the Navy decided to decommission the ship, and she never operated as an AVT. Instead, Forrestal languished for years — first in Philadelphia, then in Newport, Rhode Island, then back to Philadelphia — while the Navy decided what to do with her. Now, she becomes the first super carrier to be scrapped.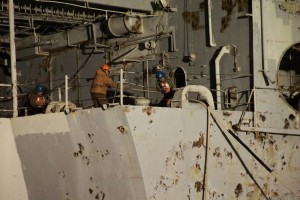 Foss Marine workers let go lines from the carrier's fantail. (US Navy photo by Joseph Battista)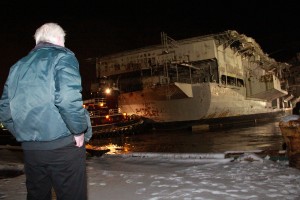 A Forrestal veteran watches his old ship leave the pier. Members of the public were allowed in to watch the ship leave. (US Navy photo by Joseph Battista)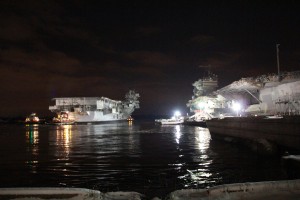 Tugs move the Forrestal out into the Delaware River. At right is the decommissioned carrier John F. Kennedy (CV 67), which a preservation group is hoping to turn into a museum ship. (US Navy photo by Joseph Battista)
Back to Top