India To Commission Russian Carrier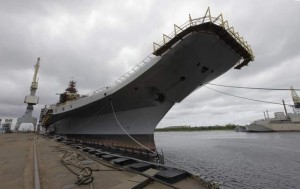 The Soviet carrier Admiral Gorshkov, now renamed INS Vikramaditya, will be commissioned into the Indian Navy on Saturday. (Agence France-Presse)
NEW DELHI — India will commission the Russian aircraft carrier Admiral Gorshkov, now renamed INS Vikramaditya, Nov. 16 when Indian Defence Minister A.K. Antony will receive the carrier in Russia.
The Indian Navy had to pay nearly $ 1.75 billion above the contracted price of the aircraft carrier, and wait nearly five years more than the scheduled delivery, which had been planned for 2008.
Antony will receive the carrier ahead of its departure on Nov. 30. It is expected to reach India by early January, an Indian Navy source said.
Russian shipyard Sevmash carried out the refit on the Vikramaditya, which will carry Russian-made MiG-29K aircraft, which have already been received. The carrier was modified to undertake short-takeoff, assisted-recovery operations.
The Vikramaditya will carry 34 aircraft including 21 MiG-29K and 13 Kamov KA-32 anti-submarine warfare ASW helicopters, as well as Ka–31T airborne early warning helicopters. The carrier was provided for free in 2005 but the Indian Navy had to pay for the refit cost and buy MiG-29K aircraft.
However, the Russian shipyard backtracked on its contract and said they the cost of refit has been recalculated. After a protracted stalemate, a fresh deal was inked in 2010 with the refit being pegged at $2.33 billion and another $2 billion for 45 MiG-29Ks.
The Nov. 14 Indian Ministry of Defense statement says, "The Defence Minister A.K. Antony leaves New Delhi tomorrow on a four-day visit to Russia to commission the Indian Naval Ship Vikramaditya and also to co-chair the 13th Meeting of the India–Russia Inter-Governmental Commission on Military Technical Cooperation (IRIGC-MTC) with his Russian counterpart Sergey Shoigu. The commissioning ceremony will take place at Sevmash Shipyard, Severodvinsk on Saturday and the IRIGC-MTC meeting will take place in Moscow on Monday."
The Indian Navy has one 50-year-old aircraft carrier, INS Viraat, whose life has been extended until 2017, when the homemade Indigenous Aircraft Carrier joins the service.
e France-Presse)
Back to Top