House Armed Services Member Blasts 'Arrogance' of DoD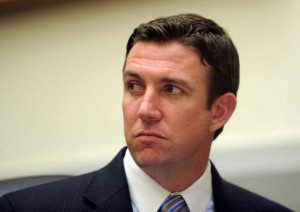 Rep. Duncan Hunter, R-Calif., has urged broad reform of military personnel costs. (File)
WASHINGTON — A US House Armed Services Committee Republican is sharply criticizing Defense Department officials for "an arrogance" that has spawned "a disconnect" between the Pentagon and Congress.
GOP Reps. Duncan Hunter of California and Adam Kinzinger of Illinois, during a conference here, also predicted lawmakers are finally frustrated enough with skyrocketing military personnel costs to tackle reforming that long-sacrosanct system.
The always-candid Hunter blasted both civilian Pentagon and military leaders, saying "DoD doesn't know what it costs to make soldiers, Marines or sailors.
"It simply doesn't know," Hunter said "They either have not done the research or they aren't being forthcoming with Congress."
The frustrated Marine Corps veteran expressed concerns over what he sees as a disconnect between DoD and Congress.
There is "an arrogance on the part of DoD and the military leadership," Hunter said.
The Pentagon's civilian and military leaders should make decisions that are "driven by strategy; it should be driven by threats" — but he feels they are too often not.
Hunter said changes are needed to rid the Defense Department of this attitude. "It's going to take somebody outside the box to force them," he said.
The California Republican's criticism also targeted the Pentagon's troubled history of developing new weapon systems, noting that a series of defense secretaries have tried changing things without much luck.
Hunter's criticism came just several hours after HASC's top Democrat, Rep. Adam Smith of Washington, blasted the Obama White House's national security staff for largely ignoring even key lawmakers of their own party.
"I get it, they don't trust us," Smith said at another event here.
Hours after Hunter made his comments, Pentagon Comptroller Robert Hale, speaking at the same conference, was asked to respond to the "arrogant" charge.
"I would be wise not to take that bait," Hale said with a laugh, before diving in.
"I don't remember myself nor other senior officials ever turning down requested meeting with member of Congress. We certainly testify frequently," Hale said. "I'm not aware that we have failed to provide information. I am aware they would want more definite information."
"For example they would like a lot more information about what sequestration would do — at least I think that is the case and frankly were feeling our way towards it," Hale continued. "Even now we don't have fully detailed plans for fiscal '14 because we're trying to work on '15 to '19, and because we don't know whether it's going to be 475 billion, 496 or even something higher than that."
Hale also acknowledged the political aspect of the complaints leveled earlier that day by the two Republicans.
"Some of them may, frankly, not like the answers they're hearing," he said. "There are two parties on the Hill and they don't always agree, so I think at times the party that doesn't get the information they want to hear is frustrated."
Meantime, Kinzinger, an Air Force Reserve Iraq war veteran, noted the issue of military personnel reform is one lawmakers and citizens are too reluctant to bring up.
Military veterans have no trouble discussing the topic, but "the average person who has never been in the military is scared to death of talking about it because they're afraid of being labeled anti-veteran or anti-military."
Hunter predicted that could soon change in a major way.
"We're going to take a look at personnel. It's time for Congress to look at this and say, 'If you're in, it stays the same. But if you join tomorrow, things are going to be different.'"
Hunter said one example of how to change the system, which has been endorsed by the Defense Business Board and a slew of think tank budget-cutting study groups, would be to give a Navy SEAL who has done "a lot of tours" a "better retirement" than another troop "who doesn't do anything but stays in longer."
Hunter also singled out career officers who retire after 20 years for lucrative industry jobs, but continue to receive subsidized health benefits.
"You shouldn't be able to retire [at] 42 years old … and just pay $330 a year for Tricare," Hunter said. "You should not be able to be supported and subsidized by the taxpayers. … I think Congress will finally have the guts to look at that."
Back to Top