Carrier-borne jet pilots receive certification
China's first group of five pilots and landing signal officers received their certifications in the latest sea trials of the Liaoning, the country's first aircraft carrier.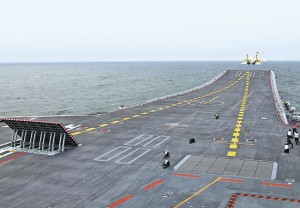 The Liaoning finished its 25-day test and training mission on Wednesday and returned to a navy port in the east China city of Qingdao. During the training, pilots executed several continuous take-off and landing exercises, making China one of the few countries in the world that can train its own carrier-borne jet pilots.
Using the J-15, China's first-generation multi-purpose carrier-borne fighter jet, pilots finished China's first training mission stationed aboard the carrier as well as the first 105-meter short-distance ski-jump takeoff exercises, an important breakthrough in the sea trials.
Pilots and landing signal officers were tested on a range of skills. They passed the certification process following expert reviews and a flight data assessment.
The People's Liberation Army (PLA) Navy also performed exercises related to the carrier's operations, system guarantees and logistics. Based on the smooth operation of staff, jet fighters and the carrier, as well as the sound cooperation between fighters and the carrier, the Liaoning is now considered capable of carrying carrier-borne jet fighters.
Zhang Yongyi, deputy commander of the PLA Navy and commander-in-chief of the aircraft carrier tests and sea trials, said these results show that China has fully mastered the skills needed for taking off from, and landing on, the aircraft carrier and that it has successfully established a training system for carrier-borne jet pilots.
Back to Top