Gerald R. Ford had 20 failures in sea operations, tester says

Navy already faces problems with carrier's munitions elevators
The Navy's costliest warship, the $13 billion Gerald R. Ford, had 20 failures of its aircraft launch-and-landing systems during operations at sea, according to the Pentagon's testing office.
The previously undisclosed failures with the electromagnetic systems made by General Atomics occurred during more than 740 at-sea trials since the aircraft carrier's delivery in May 2017 despite praise from Navy officials of its growing combat capabilities. The Navy must pay to fix such flaws under a "cost-plus" development contract.
The new reliability issues add to doubts the carrier, designated as CVN-78, will meet its planned rate of combat sorties per 24 hours — the prime metric for any aircraft carrier — according to the annual report on major weapons from the Defense Department's operational test office.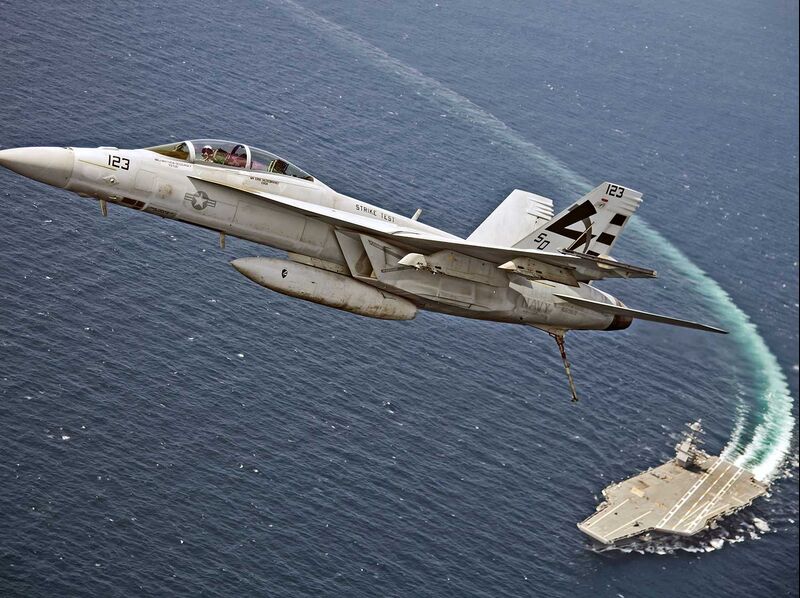 "None of the interruptions experienced during CVN-78 flight operations caused injury to personnel, or damage to the aircraft or ship," Michael Land, a Navy spokesman, said in an email.
There were, he added, two "mission aborts" associated with the catapult launch system. In both cases, flight operations were briefly suspended and "a correction was implemented."
The launch-and-landing issue is separate from the ship's lack of 11 functioning elevators to lift munitions from below deck, an issue that's drawn scrutiny from Senate Armed Services Committee Chairman James Inhofe, an Oklahoma Republican.
Read more: Faulty Elevators on $13 Billion Warship Draw Key Senator's Ire
The Ford "will probably not achieve" its sortie rate requirement because of "unrealistic assumptions" that "ignore the effects of weather, aircraft emergencies, ship maneuvers and current air-wing composition on flight operations," Robert Behler, the Pentagon's director of operational testing, said in his assessment of the carrier, obtained by Bloomberg News.
Behler's full weapons report for 2018 will be published this week — probably only days before the Navy announces a single multibillion-dollar design and construction contract to shipbuilder Huntington Ingalls Industries Inc. for the third and fourth carriers in the $58 billion program. It's part of the service's push to expand its 284-ship fleet to 355 as soon as the mid-2030s.
In a memo to Acting Defense Secretary Patrick Shanahan transmitting the annual report, Behler highlighted the Ford's problems, saying that although "improvements have occurred, poor and unknown reliability continues to plague the ship and key systems."
Trump's Doubts
President Donald Trump has expressed doubt about the electromagnetic catapult system, which has replaced an older steam-driven version.
In a Thanksgiving call to U.S. service members, Trump said "steam is very reliable, and the electromagnetic — I mean, unfortunately, you have to be Albert Einstein to really work it properly." Navy Secretary Richard Spencer told a Washington audience this month that he's explained to Trump the advantages of the new system over steam and that "we've got the bugs out."
Ten "critical failures" occurred during 747 at-sea catapults of jets; another 10 "operational mission failures" occurred during 763 shipboard landing attempts, according to the testing office's report.
Meghan Ehlke, a spokeswoman for General Atomics, said in an email that "per our contract terms and conditions," the San Diego-based contractor won't comment and has deferred all questions to the Navy.
Land, a spokesman for the Naval Air Systems Command, said in an email that the 747 launch and landings to date are "quite an achievement" but "an insufficient number of events from which to draw conclusions with respect to reliability."