The F-35B Lightning II landed aboard the amphibious assault ship Wasp on March 5, the first time the aircraft has deployed aboard a U.S. Navy ship in the Indo-Pacific.
Assigned to the 31st Marine Expeditionary Unit based in Okinawa, Japan, the F-35B will aid the Expeditionary Strike Group in a routine patrol to strengthen regional alliances and provide rapid-response capabilities.
"Pairing F-35B Lightning IIs with the Wasp represents one of the most significant leaps in war-fighting capability for the Navy-Marine Corps team in our lifetime," said Rear Adm. Brad Cooper, commander, Expeditionary Strike Group 7, according to a press release.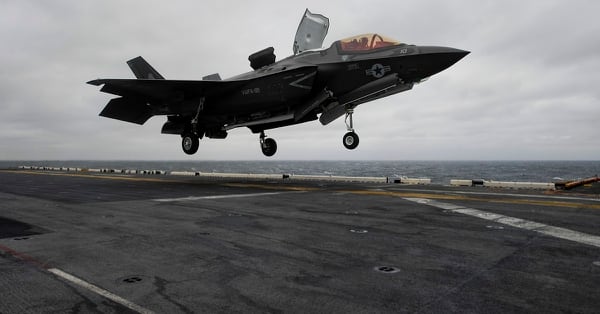 Its arrival supports the UP-Gunned ESG concept, which is aimed at integrating multi-mission surface combatants and F-35Bs into amphibious operations to provide lethality and survivability to three-ship amphibious ready groups.
The guided-missile destroyers Dewey and Sterett are scheduled to assist the Wasp Expeditionary Strike Group on operations and training.