Jet fighter squadron deployed on USS George H. W. Bush was grounded in July over air-quality concerns
By Courtney Mabeus
The Virginian-Pilot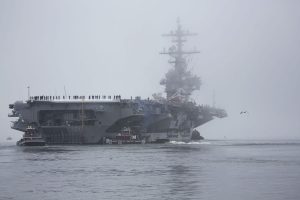 A thick fog settles over the water along Naval Station Norfolk, as the USS George H.W. Bush departs, Jan. 21, 2017, for a regularly-scheduled deployment.
A Virginia Beach-based jet fighter squadron deployed aboard the USS George H. W. Bush was grounded for a week in July for suspected cockpit air problems after two pilots reported "physiological episodes" on back-to-back days, Naval Air Force Atlantic spokesman Cmdr. David Hecht confirmed Thursday.
The stand-down of Strike Fighter Squadron 37, the Naval Air Station Oceana-based "Ragin' Bulls," was ordered from July 12-19, Hecht said. It was first reported earlier this week by Fox News.
The weeklong grounding was necessary for the delivery of replacement parts in the environmental control systems of the squadron's 10 planes, Hecht said. Those systems control cockpit airflow.
The squadron flies the F/A-18C Hornet, a single-seater fighter that dates to 1987, according to Naval Air Systems Command. Three other squadrons on the Bush fly the newer Super Hornet and were unaffected, Hecht said.
"There really was no operational impact to VFA-37 standing down," Hecht said. "That stand-down was done strictly for the safety of those pilots."
The squadron includes 16 pilots, Hecht said. Pilots may decide not to fly if they believe it is too risky with no detriment to their career, Hecht said.
Navy leadership has been vexed in recent years by problems plaguing cabin-pressure and oxygen-generating systems in its training and fighter jet fleets and have called it a top safety priority. A June report said the system that generates oxygen aboard its jets needs to be redesigned because it could lead to an oxygen-deprivation condition known as hypoxia.
Hypoxia symptoms include nausea, tingling, fatigue and disorientation. Pilots also have been experiencing decompression sickness, which causes double vision, headaches, dizziness and other issues. Broadly, the episodes typically are related to unscheduled pressure changes or pilots breathing gas.
The review didn't determine a cause for why more fighter pilots were reporting oxygen deprivation, but it said aging parts, inadequate testing and other factors have affected the F/A-18's environmental control system's reliability and called for improving it. The Navy plans to replace the system's components in 48 jets a year and will analyze which others should be replaced.
The Bush left Naval Station Norfolk in January for a seven-month deployment. It was the first carrier to leave with a chamber on board so it could quickly treat pilots' decompression sickness, another complaint.
Hecht said VFA-37 participated this month in "Saxon Warrior," an exercise meant to enhance combat skills and cooperation with the United Kingdom. 
At least two cases of hypoxia were reported by F/A-18 C pilots from Oceana-based VFA 83 while deployed on the Norfolk-based USS Harry S. Truman last year, according to Navy data . 
The Navy also temporarily grounded its fleet of T-45 Goshawks training jets earlier this year amid concerns about contamination in its oxygen system. 
Back to Top