Eyeing China, Navy moves advanced Hawkeye warplanes from Norfolk to Japan
Brock Vergakis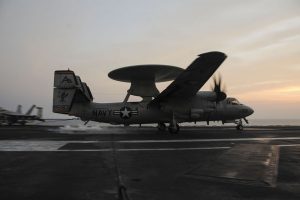 NORFOLK
A squadron of advanced early warning and control aircraft is moving from Norfolk to Japan as part of a Navy effort to place its most-advanced units in the Pacific as China grows more assertive.
The Navy said Thursday that Carrier Airborne Early Warning Squadron 125 will be based at Marine Corps Air Station Iwakuni. The squadron flies the E-2D Advanced Hawkeye and is currently based at Norfolk Naval Station.
The squadron consists of five aircraft and about 225 personnel. The squadron recently completed a deployment aboard the carrier USS Theodore Roosevelt. In Japan, the "Tigertails" of VAW-125 will be part of Carrier Air Wing 5 assigned to the USS Ronald Reagan.
The squadron will replace VAW-115, which flies the older E-2C Hawkeye.
Hawkeye aircraft use long-range radar and electronic communications to oversee battlespace and detect threats beyond sensor range of friendly units, according to the Navy.
The Navy says the Advanced Hawkeyes' new features include radar that is capable of both mechanical and electronic sweeping, and upgraded mission computers and data link capabilities.
The Navy said in a statement that VAW-115 will depart Naval Air Facility Atsugi for Naval Base Ventura County in Point Mugu, Calif., this summer to later transition to the new aircraft.
The first variant of the Hawkeye joined the fleet in 1964, making it the Navy's longest-serving carrier-based aircraft.
Back to Top