Where America's aircraft carriers are now
By Robert McCabe
The Virginian-Pilot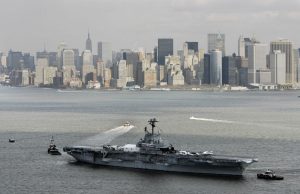 The USS Intrepid towed to a repair facility 5 December 2006.
Six aircraft carriers – the Langley (CV 1), Lexington (CV 2), Yorktown (CV 5), Wasp (CV 7), Hornet (CV 8) and Princeton (CVL 23) – were sunk in the Pacific during World War II, the only carriers lost as a result of enemy action, according to the Navy.
The fate of roughly 60 others has been a mixed bag.
A few – like the original Saratoga (CV 3) and Independence (CVL 22) as well as the America (CV 66) – were sunk as targets or in simulated attacks. The America was sunk off the U.S. East Coast 11 years ago.
The Oriskany (CVA 34) was sunk off Florida's coast in 2006, to become an artificial reef.
Many have been sold for scrap. Over the past three years, the Navy has awarded contracts for the dismantling of five conventional carriers in Brownsville, Texas.
A handful of others have been turned into museums: the second Yorktown, in Charleston, S.C.; the Intrepid, in New York; the second Hornet, in Alameda, Calif.; the second Lexington, in Corpus Christi, Texas; and the Midway, in San Diego.
Turning a massive carrier into a museum, however, is easier said than done, requiring foundations with deep pockets.
The Enterprise and other Nimitz-class carriers can't be turned into museums because they contain nuclear reactors that must be removed. The ships must be dismantled for them to be taken out.
A nonprofit in Rhode Island wants to bring the Kennedy to Newport, and groups in Wilmington, N.C., and Pensacola, Fla., have their eyes on the Kitty Hawk.
Back to Top