Opinion: No Time For Inaccuracy On JSF Costs
By Bill Sweetman
Source: Aviation Week & Space Technology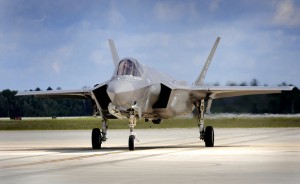 January 20, 2014 Credit: U.S. Air Force/TSGT. Marvin Lynchard
When a Rand Corp. report concluded in December that the Joint Strike Fighter program would cost more than the total of three separate ones, Lockheed Martin responded sharply, accusing the authors of overstating the figures by a factor of two. But the company could not provide a source for its own numbers (AW&ST Jan. 6, p. 18).
This was not the first time that Lockheed Martin recently tried to discredit Rand. Backup slides for a summer-2008 Rand briefing cast doubt on the JSF's ability to survive against faster and more heavily armed adversaries. Program leaders responded by touting the F-35's superiority over all comers. The business development vice president, Steve O'Bryan, has characterized the 2008 brief's authors—both fighter aviators—as people "with no airplane experience." A Lockheed Martin spokesman dismissed questions about O'Bryan's disparaging comments as "silliness."
The numbers used to attack the latest Rand report are not the only questionable comparisons coming out of Fort Worth. JSF general manager Lorraine Martin said on Dec. 17 that the F-35A would cost $75 million in full production, or "less than any fourth-generation fighter in the world." Later, the company clarified that number as a unit recurring flyaway cost (URFC) for a fighter ordered in 2018 and delivered in 2020, expressed in 2012 dollars.
The cost projection is not new—it's what Pentagon accountants have predicted since 2011. Even so, a projected (if everything goes right until 2018) $75 million is not lower than the historic (that's what the Pentagon actually spent) $54 million URFC of the F/A/-18E/F Super Hornet, as quoted by Boeing.
One reporter who spotted this difference was assured by "congressional aides" that the Super Hornet needed a targeting pod and other equipment, standard on the F-35, that would cost an additional $17 million. Pods cost about $2 million, and the anonymous aides are not available to explain the missing $15 million.
Last time Lockheed Martin had to quote a real price, in South Korea, the F-35 bid was undercut by the F-15 Eagle and the nobody's-idea-of-cheap Typhoon (AW&ST Aug. 26, p. 18). Yes, the Korea deliveries would arrive earlier than 2020, but those in 2017-19 would come off a line running at 60-120 aircraft a year.
Still, the company and its representatives argue, the F-35A price has come down by half since production started. It's technically correct, but the starting point is two mega-expensive aircraft in Lot 1. The curve is much flatter from Lot 2 onward, so much flatter that four years ago, the Lexington Institute's Loren Thompson (a consultant for Lockheed Martin and other defense contractors) could make exactly the same point ("The cost of each aircraft fell 50% between the first and fourth production lots"). Air Force budget documents say that the Fiscal 2013 flyaway price for the F-35A (at a total JSF rate of 35 aircraft) is just 15% less than the six aircraft in Lot 2.
Historically, the JSF program has had a problem with accepting bad news. Six years ago, the Government Accountability Office warned that the program was likely to overrun its budget and schedule, which at the time called for full initial operational capability in 2012-14. Lockheed Martin countered that "the F-35 program is on schedule" and the Pentagon program manager, USAF Maj. Gen. Charles Davis, asserted: "We do not agree with that estimate, there is no basis for that estimate, and we do not support it." Three years of drift went by before it was officially accepted that the GAO's fears had been conservative.
Program leadership under U.S. Navy Vice Adm. David Venlet and USAF Lt. Gen. Christopher Bogdan has set a much better example of candor. Bogdan may need to have words with his contractor: Credibility and accuracy are more important than ever, because critical, irreversible decisions are close at hand. Pentagon leaders seem determined to stick with the planned JSF production ramp-up, which triples U.S. buys in four years. But high costs and stagnant budgets mean more and more programs will have to be sacrificed to pay the bill. F-15 and F-16 upgrades are at risk, along with the option to sustain the F/A-18 line.
But what if even these cuts are not enough, or if international partner sales slide under cost pressure, and the rate and price projections cannot be met? Lockheed Martin can excuse itself by saying the Pentagon undermined its cost-reduction goals by shorting their budget, but programs that have been sacrificed will be beyond recovery, partners will be cutting back their fighter fleets to barely realistic levels—as the Netherlands has done—and the USAF fleet will be on the depressing trend line identified by the Center for Strategic and Budgetary Affairs' Todd Harrison: "smaller, older and more expensive."
This is a time for realism, not marketing.
Back to Top